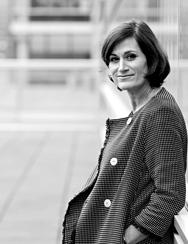 Nathalie Palladitcheff,
President of Ivanhoe Cambridge.
Nathalie Palladitcheff is President of Ivanhoe Cambridge, a global leader in the real estate industry. The values of diversity, complementarity and sustainability that she upholds resonate perfectly with those of Togeth'HER's signature artist event.
With $64 billion in assets and 1,200 employees, Ivanhoe Cambridge, a subsidiary of the Caisse de dépôt et placement du Québec, is a world leader in the real estate industry. And it is headed by a woman : Nathalie Palladitcheff. President and Chief Executive Officer of Ivanhoe Cambridge, Nathalie Palladitcheff left her native France and Icade with her family to take up her position as Chief Financial Officer in Montreal in 2015, before being appointed CEO. This exceptional and atypical career path explains her commitment to diversity. « I am one of the few women leaders in the real estate sector. We manage the savings of Quebecers, so our responsibility is immense. In addition, three-quarters of our activities are carried out outside Canada. We therefore have an eminently social and societal mission. I am therefore convinced that, to build tomorrow's world in a sustainable manner, we must defend diversity and complementarity. When we rely on a single pillar, we are always fragile. We must multiply them to ensure solidity. This image, which suits Ivanhoe Cambridge well, reflects my vision of management. The wealth of perspectives and profiles is a strength for the Company. That's why, in particular, we have to value inspiring women, who are so rare in the real estate industry, where only 15% of our employees are professionals. Hence our interest in an event such as Artistes à la Une Togeth'HER, » explains Nathalie Palladitcheff.
Another strategic focus for the manager is to have a positive impact wherever Ivanhoe Cambridge develops projects.
« It's important to connect to communities, she insists. This can be done through philanthropy and patronage, which are widespread in North America. This can be done through donations of money or time. Each year, our employees dedicate 4,000 hours of work to this type of mission. This connection is also instilled through art, which helps to forge a bond with the people for whom we build buildings. So we have a program for integrating works of art into public spaces. » As a result, close to 500 works of art, some of which are museum-quality, are distributed around the world at Ivanhoe Cambridge properties.  « The work of an artist creates a relationship with the individual : when you admire him or her in the morning as you walk into the office, the day suddenly takes on its full meaning, she enthuses. For example, I am very proud of the choice we made for the DUO Towers in the 13th arrondissement of Paris, which we are building under the aegis of architect Jean Nouvel. They will house a sculpture by Canadian Ed Pien. He was inspired by the emblematic trees in the parks of Paris to illustrate the communion between culture and nature. It is a strong gesture, which places us in a timeless dimension and reflects our approach to sustainability. »
Nathalie Palladitcheff has defended these principles fully at Ivanhoe Cambridge since the beginning of her career thirty years ago: «  Women bring a complementary voice, and that's an asset in the face of adversity. As a leader, I have to encourage women to express themselves, to trust their intuitions and their decisions. They don't have all the answers, but they do have answers that contribute to the company's performance while moving the company forward. This is what an event like Artistes à la Une Togeth'HER proves. »