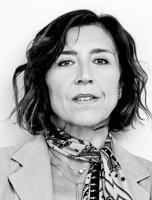 Valérie Descamp,
General Manager of Mediatransports
MediaTransports, a leader in out-of-home advertising, is proud to highlight the struggles of women committed to a fairer world.
«  I'm particularly happy to be able to support this edition ofArtistes à la Une Togeth'HER, with a 4 x 3 campaign deployed on the platforms of the Paris metro, as well as on several hundred digital screens.
This partnership is in line with MediaTransports' CSR commitments and our support for various causes, particularly in terms of respect for people, environmental protection and the fight against exclusion. Many of the causes supported by these exceptional women are indeed part of these issues, in France and around the world. What is more, the diversity of these women, their backgrounds, their origins and their commitments, all share a fierce desire to work for a fairer, more egalitarian and more sustainable world. This famous «  world after » , for which the health crisis seems to have been the catalyst, has no doubt already had its roots in the struggles of these committed women. It is therefore more necessary than ever to put them in the spotlight, certainly as a form of recognition, but also to raise awareness of these causes and the need to continue the mobilization they require.
We are therefore proud to offer high visibility to this artistic project among millions of Paris Region travelers, at the heart of their daily lives, to contribute to the success of the projectArtistes à la Une Togeth'HER 2021. »