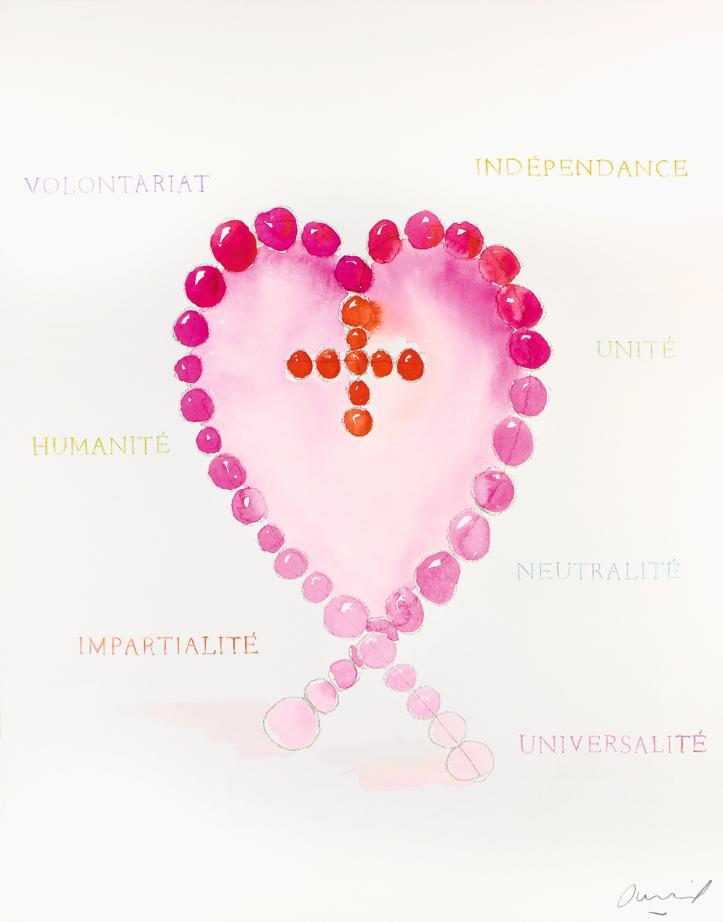 Watercolor on Arches paper.
Madame Figaro 2020
S.A.S.
Princess Charlene of Monaco
WHY HER ? "FOR ITS CHOICES, ITS COMMITMENTS, ITS DYNAMISM."
It is a princess committed to the Monegasque Red Cross that Jean-Michel Othoniel wanted to honor, by drawing the red heart that he had offered to the NGO for her 70th birthday. "It is an open heart, a living, welcoming form in which the world is reflected," explains the artist. Born in 1978 in Southern Rhodesia (now Zimbabwe), she became a swimmer and represented Australia at the 2000 Olympics. After her marriage in 2011 with H.S.H. Albert II of Monaco, she created her foundation in favour of women and children in difficulty, a cause to which she was sensitized during her childhood in South Africa.
Jean-Michel Othoniel, born in 1964, a graduate of the Ecole Supérieure d'Arts de Paris-Cergy, discovered obsidian, a volcanic and glassy rock, during a trip to the Aeolian Islands. He then perfected his knowledge of glass, worked with the International Research Center for Glass and Plastic Arts (Cirva) and introduced this material into his work in 1993. During his stay at the Villa Medici in Rome in 1995, he suspended organic and erotic pieces in the bamboos of the garden. He cultivates an art of poetry, delicacy and mystery to poetize and re-enchant the world. Sublimating nature, as he did in his exhibition in Tokyo with his chrysanthemum garden, in Seoul with Black Lotus and in Sète with his Géométries amoureuses. In 2018, he was elected to the Academy of Fine Arts.
CAUSE : THE MONEGASQUE RED CROSS