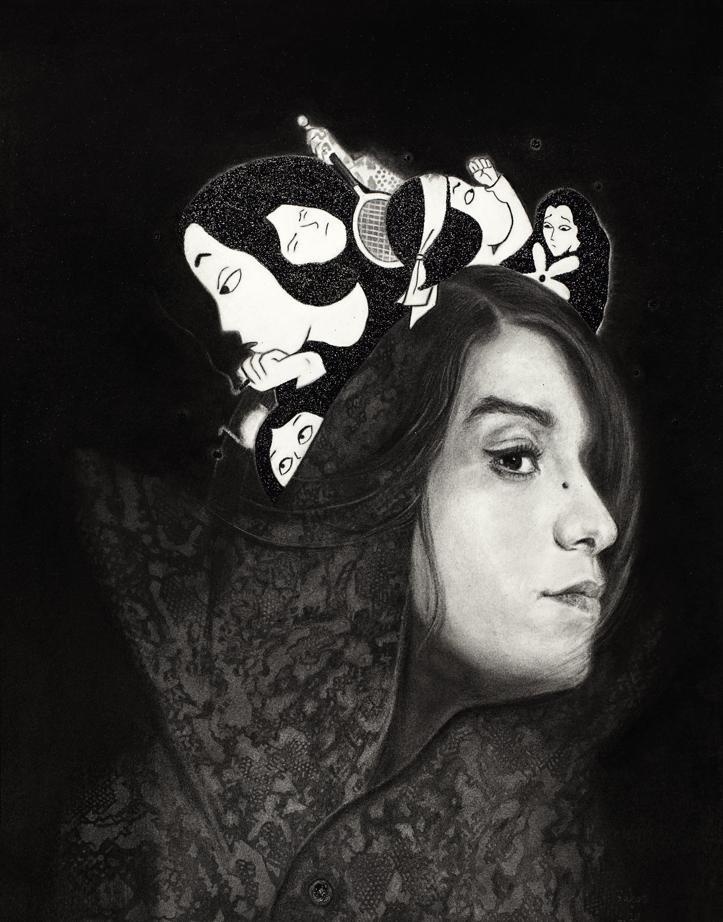 Charcoal and glitter on Arches paper.
Madame Figaro 2020
Marjane Satrapi, cartoonist & director
WHY HER ? « WE SHARE A COMMON HISTORY, THAT OF WOMEN WHO LIVED IN IRAN DURING THE ISLAMIC REVOLUTION, A COMMON MATTER, WHICH IS OUR LIFE AND SIMILAR STRUGGLES AGAINST REPRESSION, JUSTICE AND WOMEN'S RIGHTS. »
Marjane Satrapi, a 50-year-old Iranian cartoonist and filmmaker, became famous with the publication, between 2000 and 2003, of Persepolis, she also wrote a comic book in which she recounts with devastating humor her youth in Tehran during the Islamic Revolution and the beginning of the Iran-Iraq war. Two other comic strips follow, Embroideries and Chicken plums. The latter will become a film in 2011, just like it was Persepolis, four years earlier. She has just realized Radioactivea film about the life of Marie Curie, taken from the graphic novel by the American artist Lauren Redniss.
Iranian artist born in 1980, she first lived in Tehran before moving to Europe and then to New York to study visual arts. Her work poses the following question: "How to be a woman in a Muslim country". The female identity preoccupies her, as well as the obsession of her compatriots to live in the past, to romanticize and idealize the Persian culture. If she uses its codes and motifs in her self-portraits, it is to denounce this nostalgia.
CAUSE : IFAW, the International Fund for Animal Welfare, advocates for the animal cause.