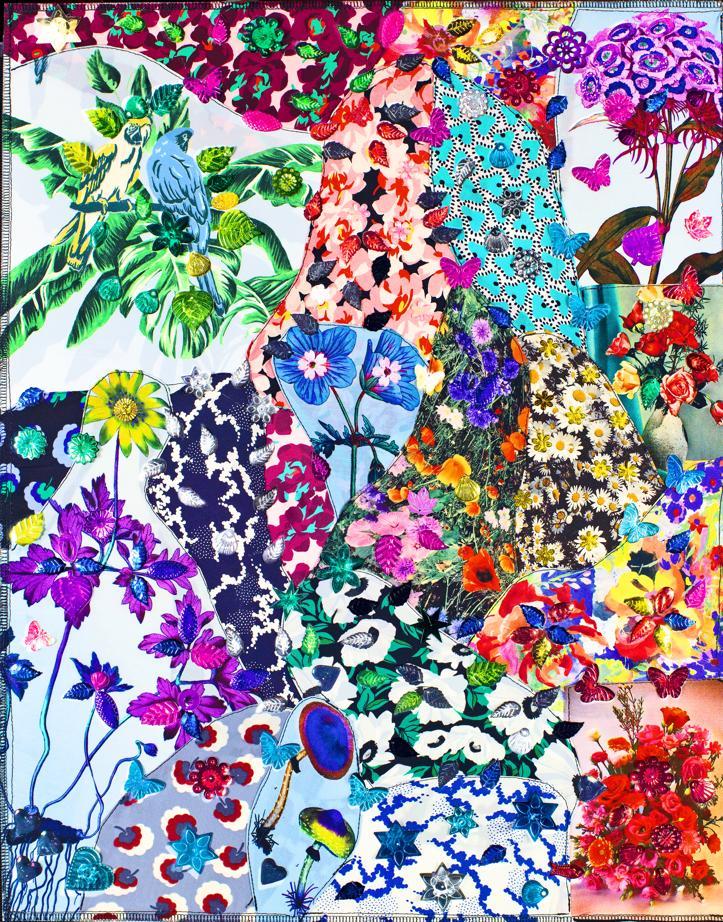 Pearly Gates. Collage of fabrics and application of sequins on Arches paper. Work produced with the collaboration of Stella McCartney.
Madame Figaro 2020
Stella McCartney, stylist
WHY HER ? : «  WE SHARE THE SAME VALUES. WE LOVE TRADITION, CRAFTSMANSHIP AND BOTH WORK FOR THE PRESERVATION OF THE ENVIRONMENT. »
The designer Stella MCCartney, born in 1971, daughter of Beatles Paul McCartney and American photographer Linda Eastman, is a graduate of the prestigious Central Saint Martins School of Design in London. A pioneer of green fashion, she has transformed this art form into a fighting tool to change fashionistas' consumption habits. Eco-friendly, vegetarian and a fierce defender of the animal cause, she stands out for her exclusive use of eco-responsible materials. In her collections, there is no leather or fur. Her way of marrying glamour and commitment.
The huge pair of gleaming pumps exhibited at the Palace of Versailles in 2012, it's her! The first woman to exhibit in this mythical place that regularly offers carte blanche to a contemporary artist, Joana Vasconcelos, Portuguese designer born in 1971, brilliantly handles the art of provocation. Her Marilyn pumps, which shine brightly in the Hall of Mirrors, are, when you get close to them, a subtle stack of stainless steel pots and lids! Joana Vasconcelos' creative process is based on the use of everyday objects to offer a critical vision of society, especially the place given to women. She exhibits her work all over the world.
CAUSE : REFÚGIO ABOIM ASCENSÃO, Portuguese association to help abused or abandoned children.