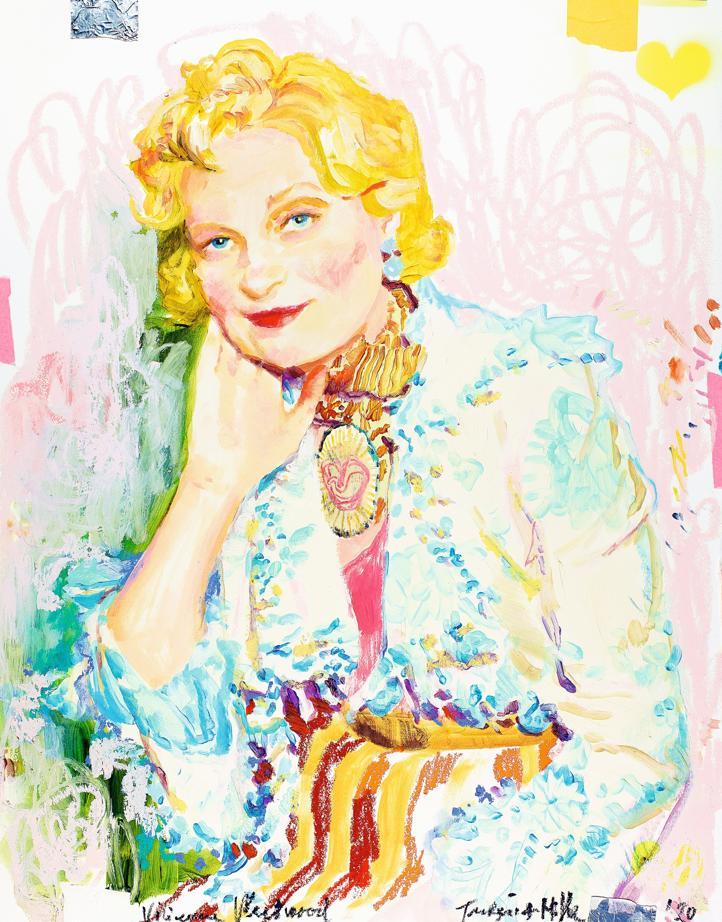 Oil and pastel on Arches paper.
Madame Figaro 2020
Vivienne Westwood, designer & stylist
WHY HER ? « SHE IS THE ICON OF THE CENTURY, SHE HAS BUILT HER VISION OF THE WORLD IN REACTION TO THE ESTABLISHED ORDER. WE HAVE PORTRAYED HER IN A PHOTO THAT SHOWS HER IRONIC, FRESH AND ACIDIC SIDE. »
It is no wonder that English fashion designer Vivienne Westwood, the one who went pantless to Buckingham Palace to receive the Officer of the British Empire Medal from the Queen's hands, is one of their muses. Heretic, she was, in the mid-1970s, when she wrote the words fuck or destroy on clothes crossed by safety pins or sadomaso chains. His universe refers as much to George Orwell's 1984 London as to the society of the Brave New World by Aldous Huxley.
Very early on, this enfant terrible of fashion decided not to use fur in his collections. In 2012, she publicly supports Greenpeace and its campaign Save the Arctic.
By Ida Tursic and Wilfried Mille
Trained at the Ecole Nationale Supérieure d'Art de Dijon, both born in 1974 - Ida Tursic in Belgrade, Wilfried Mille in Boulogne-sur-Mer -, they have been working together since 2000. The duo draws its pop, punk and nihilist iconography from newspapers, the Internet and scenes from everyday life. The result is a concentrate of our 21st century visual culture, without concern for hierarchy, illustrating the anguishing overload of pictorial productions produced by the media. Tursic & Mille have been nominated for the 2019 Marcel Duchamp Prize and are among the 2020 winners of the Simone and Cino Del Duca Foundation's Grand Prize for Painting.
CAUSE : SAFE WORLD PEACE FOR LEBANON, which notably helps the victims of the explosion of August 4, 2020, in Beirut.