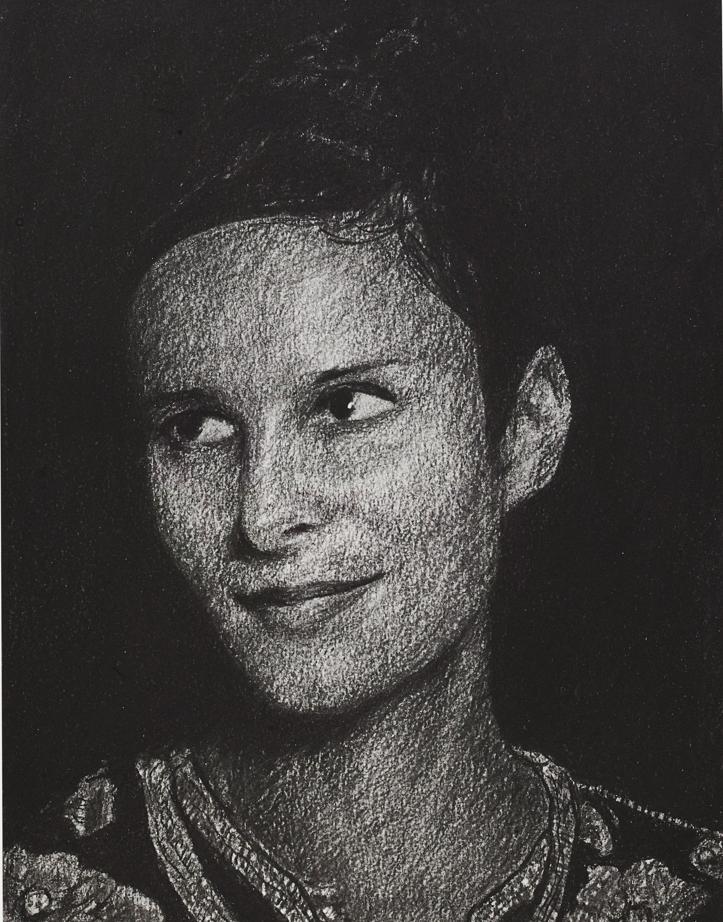 Graphite on Arches paper.
Madame Figaro 2020
Eva Bester, journalist
WHY HER ? « BECAUSE IT MAKES ME FEEL GOOD, BECAUSE IT SPEAKS OF FRAGILITY, BECAUSE IT DEFENDS ART. WE WILL SUCCEED IN CREATING SOLIDARITY BY TALKING ABOUT OUR FRAGILITY RATHER THAN OUR SUCCESSES » .
First of all, it is a voice. That of Remedy for melancholy on France Inter, a program broadcast on Sundays at 10 a.m., which now has a listenership of one and a half million. It is also a communicative passion for everything related to writing, painting and music. In short, anything that can save us from melancholy. This journalist born in 1985, producer of the show, gives us tools to overcome this evil of the century, including reading Rilke, making fig jam or observing Frida Kahlo's paintings. In 2018, she published the content of her shows at Autrement.
Born in Paris in 1980, Thomas Lévy-Lasne enters directly to the Beaux-Arts after his baccalaureate to study painting. A painting that I wanted simple, figurative and classical, to represent the state of the world and its invariants," explains the artist, who was a resident of the Villa Medici in Rome in 2018. In his time, Fantin-Latour painted young girls reading by candlelight. Today, I paint young girls looking at their cell phones. This is what I call a cultural invariant. "For the past two years, Thomas Lévy-Lasne has been working on past and future natural disasters and the consequences of global warming. "Did you know that in a thousand years, 30% of the CO2 that we have so blithely spread will still remain on Earth? "In his latest exhibition, Asphyxia, it was also a renunciation of the idea of wilderness in favor of a modern project of artificialization and technological utopia.
CAUSE : GOODPLANET. Recognized as being of public utility, this foundation was created by Yann Arthus-Bertrand to help preserve the planet.