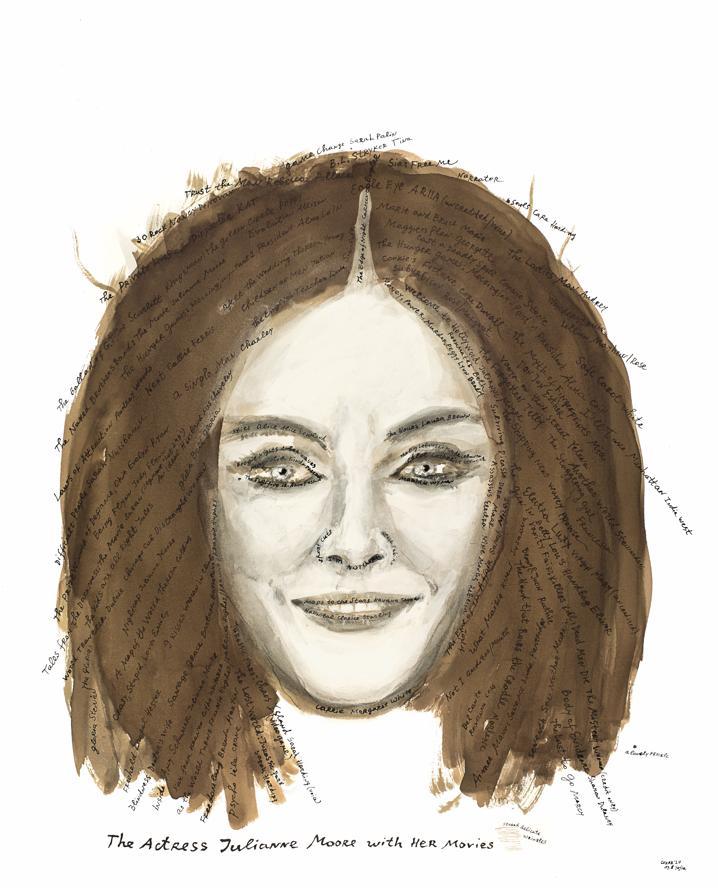 Watercolor on Arches paper.
Madame Figaro 2020
Julianne Moore, actress
WHY HER ? : «  SHE IS AN EXCEPTIONAL ACTRESS. I LOVE THE WAY SHE EMBODIES WOMEN. I HAVE WRITTEN ON HER HAIR AND FACE THE NAMES OF ALL THE MOVIES SHE HAS BEEN IN. »
Brandy-colored eyes, diaphanous complexion, lips bitten as in a painting by Gustav Klimt, the American actress Julianne Moore is the embodiment of the American dream. She began her career by filming in soap operas, which earned him an Emmy Award. At the age of 33, she achieved fame with Short Cuts, the film by Robert Altman. Role after role, she questions female identity, talks about the couple, dismantles Epinal's image of family happiness, and explores without taboos the maternal instinct, alternating blockbusters and auteur films. She sums it up better than anyone else: "I like crazy people and women. borderline. »
Bulgarian visual artist born in 1957, Nedko Solakov first studied mathematics before becoming a painter and sculptor. If his subject remains the fear and insecurity of everyone in a ruthless world, he treats it with lightness and elegance, using photography, painting, drawing, video or ironic and burlesque installations to tell his stories. He surrounds his works with small texts, which help us to enter his tragicomic world. His favorite painting is The Triumph of Death of Pieter Brueghel l'Ancien.
CAUSE : BELLE & BIEN, an association that assists cancer patients by offering beauty care to strengthen their self-esteem.