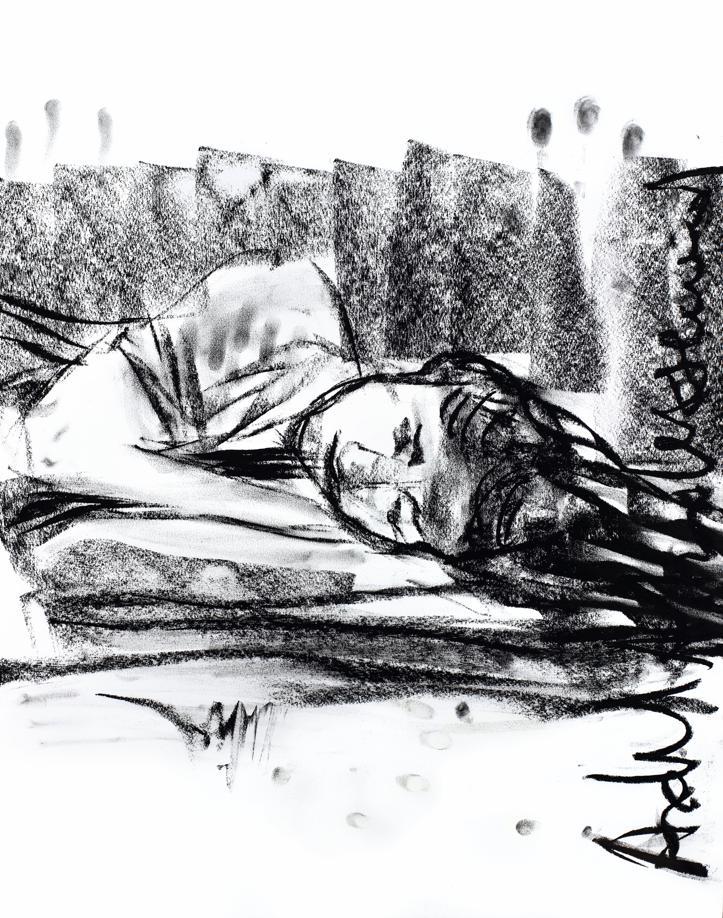 Charcoal on Arches paper.
Madame Figaro 2020
Golshifteh Farahani, actress
WHY HER ? « THERE ARE COMMITTED ARTISTS, COMMITTED ACTORS. HERE IS GOLSHIFTEH, TENDER PROVOCATIVE, LUCIDLY REVOLTED...IMPLACABLE WITH HER FANATICAL ENEMIES, GENTLE WITH HER FRIENDS. »
 Born in Tehran in 1983, a child of war, Golshifteh Farahani is an exile. As a teenager, she is attacked with acid by a man who considers her « not covered enough ».
Protected by her backpack and coat, she is burned by hand. In 2008, she won, alongside Leonardo DiCaprio, the female role in Body of Lies, Ridley Scott's thriller. She thus became the first Iranian star to cross the gates of Hollywood since the Islamic revolution of 1979. This film will irritate the Iranian authorities, who will confiscate her passport. She will however succeed in leaving Iran to join another film.
« To turn is to open the door to paradise, » confides this passionate woman, who now lives in exile for fear of returning to her country. In the film by writer-director Atiq Rahimi, taken from his book Syngué Sabour, Winner of the Prix Goncourt 2008, she embodies the magnificent role of a submissive woman who frees herself through speech. A role in her own image.
Born in 1971 in Constantine, student at the Fine Arts of Batna, Algiers then Lyon where he immigrated in 1994 during the civil war in Algeria, Adel Abdessemed is a cerebral, committed, powerful artist. An artist of combat, which forces us to reflect on violence.
« The artist must create works of resistance, » he says. He uses all the languages at his disposal (video, painting, sculpture) to express his rage, in the face of humanity that shows so much ingenuity in organizing its destruction. His monumental sculpture Coup de tête (headbutt), the « Zinédine Zidane » gesture, representing the gesture of Zinédine Zidane during the World Cup 2006, is one of the most famous. In 2018, he presents, with the complicity of Jean Nouvel, an exhibition in Arles entitled "The World Cup in Arles". Au-delà du principe de plaisir (Beyond the pleasure principle), which is the subject of a retrospective catalog at Actes Sud. We find there the sculptures and photos made in the street that runs along his studio in Paris, where he did not hesitate to bring a lion, to set fire to his clothes or to dispose of skeletons...
CAUSE : PARIS TOUT P'TITS, an association of material aid for underprivileged families with young children.