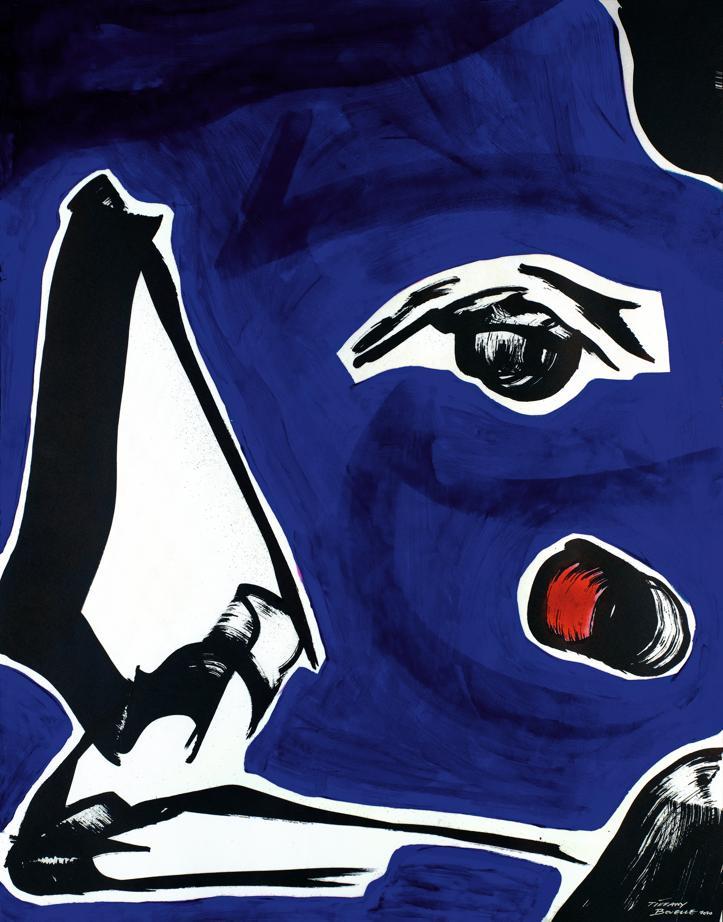 Seawater gouache on Arches paper.
Madame Figaro 2020
Claire Nouvian, environmental activist
WHY HER ? « I LOVE WOMEN WHO TAKE RISKS AND DANCE WITH HELL. I NAMED HER PORTRAIT THE FACE OF OUR SEA. »
Claire Nouvian, born in 1974 in Bordeaux, former journalist, French ecologist and disappointed by politics, founded the Bloom association in 2005.
Her goal ? To raise public awareness about the protection of the oceans, the harmful effects of intensive fishing that destroys marine ecosystems and the need to promote artisanal fishing that creates jobs. Claire Nouvian puts all her energy, tenacity and intelligence into this effort. She has written two award-winning documentaries, including Expedition to the Abyss. She has led the European Parliament to ban electric fishing for fish from the seabed.
From canvas to everyday objects and fashion, the work of Tiffany Bouelle, who began as a stylist after graduating from the École Duperré in Paris, was spotted at a first exhibition in 2018 in the Marais by the famous trunk maker Moynat (bought by LVMH). The Franco-Japanese artist signed a series of drawings for a capsule collection, as well as window displays for Le Bon Marché. At the same time, she has been conducting interviews with women around the world for several years and is currently working on a project entitled "The French-Japanese artist's work". Rencontres, about their freedom and their place in society. When asked how she would describe her work, she answers: « Chaste, because it often deals with sensitive subjects related to intimacy, interiority. » Some of her work has been exhibited at the Asia Now 2019 Fair.
CAUSE : BLOOM ASSOCIATION, which works for the protection of the oceans and the development of artisanal fishing.