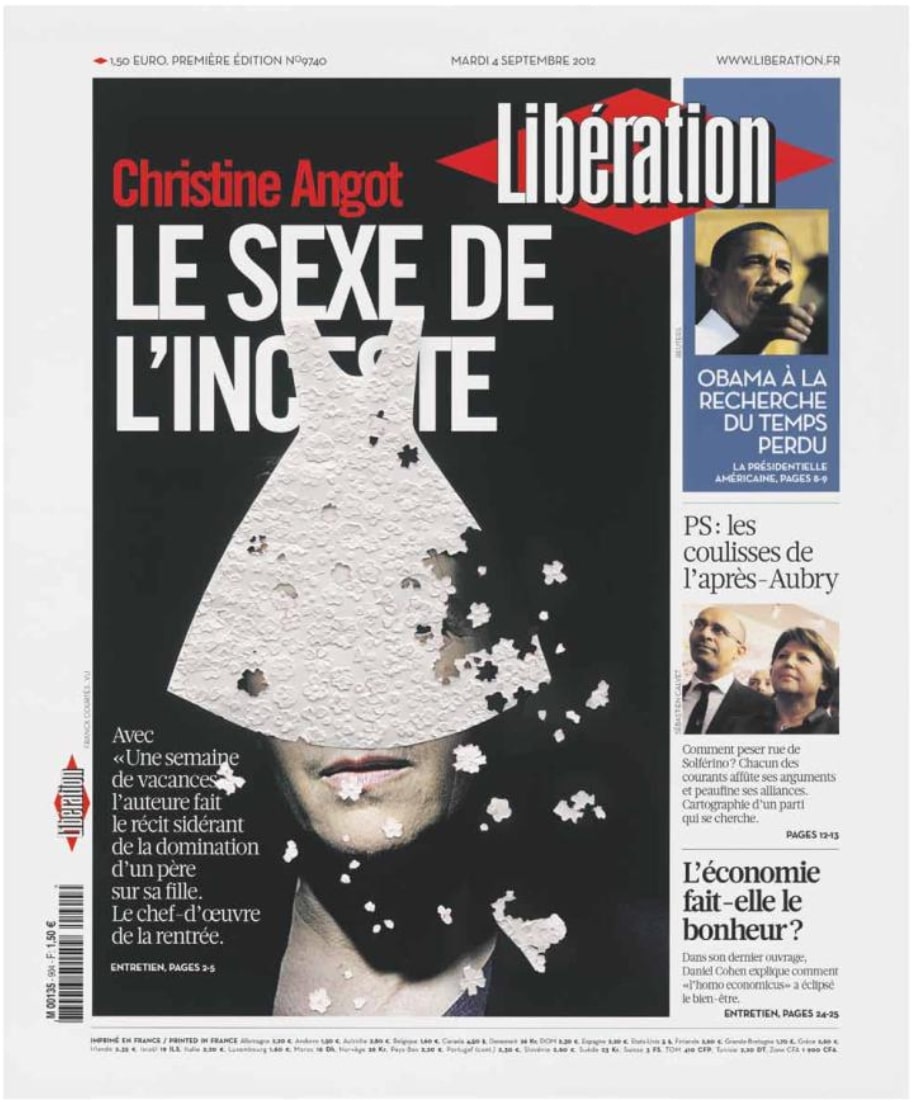 Mixed media on 210g paper print
H.73 x W.60,5 cm
H.89,5 x W.76 cm (with frame)
1963 Birth in Beauvais (Picardy).
1988 National Superior Diploma of Plastic Art Studies, Villa Arson, Nice.
1991 Première exposition personnelle, à la Galerie Lola Gassin, à Nice.
Depuis 1995 She is a territorial professor of art education at the Municipal School of Fine Arts of the city of Nice.
1998 Anne Gérard publishes her first youth album, Apolline, published by Ricochet. She is the author of the texts and illustrations.
2004 She publishes her first novel, Le mouvement des nuages (Belem editions), on the intimate and troubled legacy left to several generations of women by a daughter-mother at the beginning of the century, widow of a husband who fell in Verdun.
2015 Group exhibition at the Caroline Tresca gallery in Paris. Solo exhibition at Mansart gallery, in Paris. Anne Gérard presents her work on the dress, an object whose ambiguity she questions through several series. In one of them, the dress appears on workshop tables recovered in the art school where she teaches. The counter-form is painted white, the dress filled by stains, drips, traces of cutter, and other fruits of chance left by students over the years.
Libération 2016
A fleurs de peau
By Anne Gérard (1963, France)
"Art is no exception to gender inequality. There are many more girls than boys in the arts curriculum, yet they are then in a very small minority among career artists. Theirs is particularly hampered by family responsibilities that weigh more heavily on their shoulders. For a long time, I put this subject aside. I am the daughter of a feminist who fought for the pill and her fundamental rights. When I was young, I quickly assumed that it was a given, that everything was settled. Thirty years later, the situation has changed, and this issue is still very much on my mind. One of the triggers was a few years ago. When I was presenting a new series of works, a critic came to see me and told me that, for once, he liked my work. He told me that for a long time he hadn't been interested in my work, because it was " too feminine...", before driving the nail in by adding: " Well, I meant too superficial. "I suddenly remembered that no, not everything was a given! One would never say of the works of a male artist that they are masculine or feminine. In reaction, I initiated a work around the dress. I wanted to take this idea of a supposedly feminine art, by appropriating one of the symbols of femininity, and make it say something else. On this one, for example, the dress expresses a violence. The incest told here by Angot is the abuse of power par excellence. When the adult puts his father's love in the balance, the violence is unheard of. "This white dress speaks first of purity, virginity. And then under the effect of this violence, the dress devitalizes, the flowers tear. Like a deflowered innocence. I used a technique developed in my series entitled la Stratégie du fantôme. I draw with a ballpoint pen on the back of the sheet, making a relief, blisters appear on the exposed side. It's a break-in from the inside. I work with a flexible support under my sheet, which hinders the drawing and pierces the sheet at certain times. I like the accidents produced by this gesture made laborious, this embarrassment, this discomfort at the time of creating. »