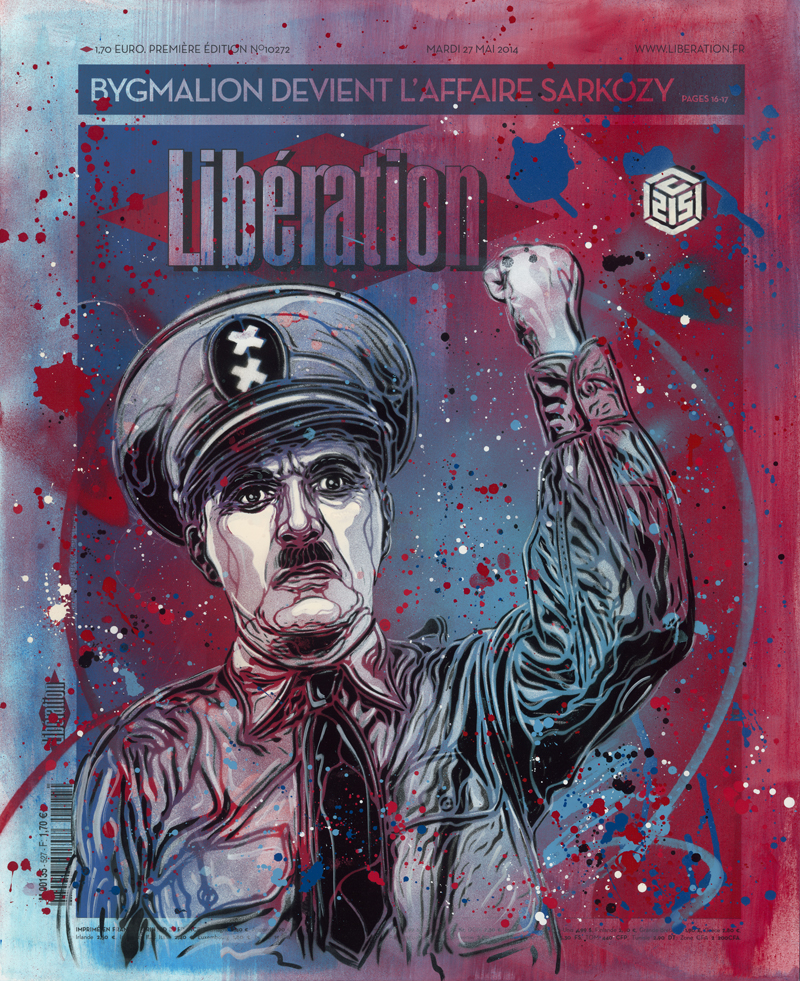 Spray stencil, marker and paint on paper print 210g
H.73 x W.60,5 cm
H.89,5 x W.76 cm (with frame)
1973 Birth in Bondy in Seine-Saint-Denis.
2000 Graduated with a master's degree in art history in architecture theory.
2003 Birth of his daughter Nina, who is often the subject of his portraits.
2006 Christian Guémy begins the street stencil.
2008 It participates in the Cans Festival of Banksy in London.
2014 His series Douce France is presented at the Itinerrance Gallery, at the Town Hall of the 13th arrondissement (Paris), at the Spacejunk art center (Bayonne) or at the Palais Bénédictine (Fécamp).
2015 He is exhibited at the Musée des Arts et Métier, where his works provide a bridge between art and science. The same year, the Albin Michel publishing house devoted a monograph to him.
Libération 2016
Mardi 27 mai 2014
"Street artists have little political influence. There are very few clinging positions, most of them remain in the consensus. For my part, I decided to get involved, not as a militant, because no party embodies my ideas, but by expressing myself through my works, to defend equality and secularism. I think that in art there are no bad subjects, only bad treatment. I come from a very popular family where racism is extremely strong, and I have been working on this theme for a long time. When Christiane Taubira was the victim of racist attacks, I wanted to pay tribute to her courage and tolerance by painting her portrait on a wall in Vitry-sur-Seine. With my exhibition Douce FranceI wanted to ridicule the concept of national identity, dear to the extreme right, and to overturn certain preconceived notions. Bringing my viewpoint to political current events, through a cover story of Libération, is therefore in line with my approach. On this front page, it was the collision of two seemingly unrelated pieces of information that interested me: the Bygmalion affair, which affects Nicolas Sarkozy, and the rise of the National Front. In my view, these two facts are closely linked, because cases involving elected officials in positions of responsibility undermine the credibility of the political class and favor the FN. My creations vary according to the media and the context. In the street, my works impose themselves on passers-by without them having solicited them, because they occupy the public space. I therefore try to adopt a certain moderation in my messages. Reading a newspaper, on the contrary, implies a tacit contract which is more favorable to an expression without filter. The figure of Charlie Chaplin as a dictator, which I made with stencil and spray paint, is an obvious denunciation of politicians, with the FN in mind, who are in my eyes aspiring dictators. I chose to treat a serious situation with humor and pastiche. The icon of silent cinema also makes it possible to draw a parallel between the France of today and that of the 1930s. The left is completely laminated, with no real prospect of renewal, and the rightwing of society worries me. Bourgeois society is moving towards populism, the party Les républicains is ready to take the step of an alliance with the FN; artists and intellectuals are rolling in the flour of power. In 2017, I fear that the political climate will change a lot for artists. The FN sometimes raises real questions, but it confiscates the questions and provides only the wrong answers."