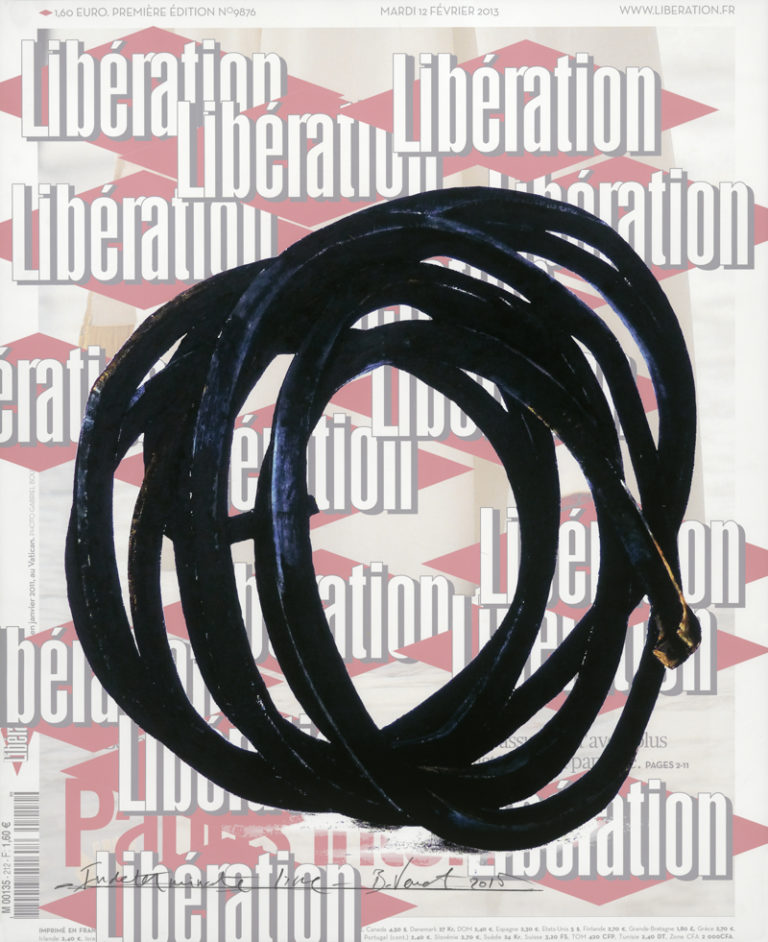 Acrylic and gouache
H.73 x W.60,5 cm
H.89,5 x W.76 cm (with frame)
1941 Birth in Château-Arnoux-Saint-Auban (Alpes-de-Haute-Provence).
1961 First paintings, canvases covered with tar.
1966 Bernar Venet moves to New York, where he meets the avant-garde of minimal art: Donald Judd, Sol LeWitt, Carl Andre, etc. He paints his first mathematical works.
1971 He chose to end his artistic practice. He devotes himself in particular to teaching and promoting his work, such as in the retrospective Les cinq années de Bernar Venetat the New York Cultural Center (1971). This creative truce will last five years.
1976 He is back to work, and exhibits at the documenta (6) in Kassel (Germany).
1983 First lines undetermined.
2011 He invested the gardens of the Palace of Versailles, where he deployed six monumental installations.
2014 Opening of the Venet Foundation, auMuy (Var). The collection brings together some one hundred works, including those of Carl Andre, César, Donal Judd, Man Ray, Frank Stella, and Arman and Jannis Kounellis.
Libération 2016
Ligne indéterminée
By Bernar Venet (1941, France)
"I didn't take into account the original image. My work is totally self-referential, it doesn't need the context nor does it seek a relationship with it, it depends on its own conceptual matrix. I have drawn an indeterminate line. Something that resembles me, something that tells my work: whether it is straight, angular, broken, or indeterminate, the line permeates my creation from the beginning. These lines are first of all a volume. I always create in 3D. I make my models with steel bars of 10 to 18 mm, which I bend until I get the desired shape. When it is successful, two options are offered to me: I can either decide to make a monumental sculpture, or to exploit the image, by capturing through photography the particular angles that I like, from which I can then imagine a drawing or a canvas. I don't impose any rules on myself. Improvisation and impulse trigger and mark out the creative process. A year and a half ago, for example, I woke up one morning and ordered 200 steel arches. Each one weighing a ton. I composed my sculpture and, with the 150° bow set, I could add nothing more. I had arrived at the work that was needed, a collapse whose result was very powerful. I sent the 50 remaining arches back to the factory. Finally, one year later, in 2015, I decided to reintegrate these 50 orphan bows. A new collapse was born. It is to this day my major piece, my masterpiece. At least, until my next idea. Steel remains my fetish material. I love its brutality, its rust, the pharaonic work it demands. It is a material a priori not seductive, which imposes itself. It suits me well. I use Corten steel for geometric work, and XC 10 steel when there is torsion, as for the indeterminate lines. A team of 27 people make my parts in a factory in Hungary. In addition to steel, my work draws on the formal dimension of mathematics. And finds in it a radicality, a break with what art was hitherto capable of producing. I no longer do abstract, I no longer do figurative, I introduce a third dimension. I objectivize. I extract myself from existing fields. I have only one ambition in my art: to question everything I have learned. »