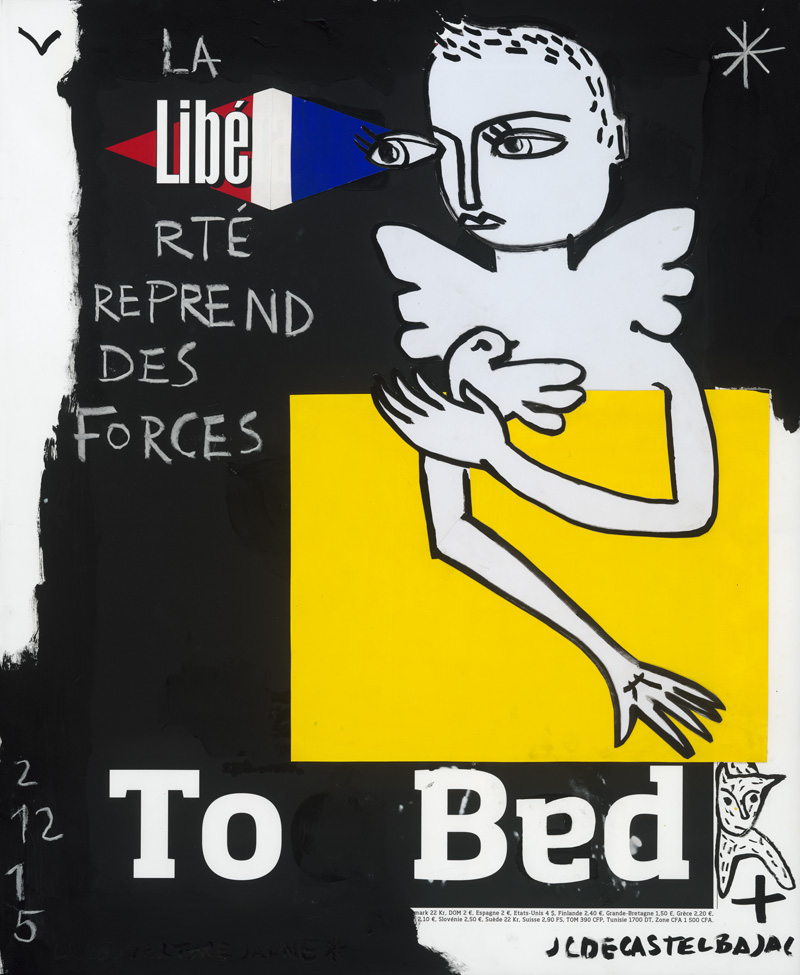 Posca and collage on 210g paper printing
H.73 x W.60,5 cm
H.89,5 x W.76 cm (with frame)
1949 Born in Casablanca (Morocco).
1970 Jean-Charles de Castelbajac presents his first collection and shows a coat that has remained famous, cut from a resident's blanket.
1978 He founded his eponymous design house for which he developed a line of men's clothing in 1980. This year also marks the starting point of his Art and Fashion collaborations with various artists such as Robert Mapplethorpe, Cindy Sherman, Keith Haring among others.
1982 He launches his first "painting dresses" and "graffiti dresses" and begins an intense series of collaborations with contemporary artists (Robert Combas, Ben, Annette Messager, Gerard Garouste, Hervé Di Rosa, Miquel Barcelo ...).
1997 He made liturgical vestments for Pope John Paul II and 5500 ecclesiastics on the occasion of the XII World Youth Day in Paris.
2006/2008 Two retrospectives are devoted to him, the first at the Victoria & Albert Museum in London and the second at the Musée de la mode de Paris under the title Gallierock.
2009 Exhibition Triumph of the sign at the London gallery Paradise Row.
2015 He realized a 3200m2 fresco on the facade of the Paris-Orly airport.
Libération 2016
La liberté reprend des forces (Freedom regains strength)
By Jean-Charles de Castelbajac (1949, France)
"My visual imagination feeds off the covers of music albums and newspaper headlines. I have a sentimental relationship with the press, but what has really influenced my life is sound. That has always been my driving force. Kraftwerk, for example, makes me want to stand up and move forward. Michael Jackson is more my sons' hero than mine, although I appreciate his spectacular and ceremonial presence. I will remember all my life hearing him and seeing him sing. Dirty Diana. He had that body swing that I found on the front page of Libération. But it's his spectral dimension that I liked here. Michael Jackson emerges from a large black area, like a ghost embodying the frontier between the visible and the invisible. When freedom is in danger, many beings have the instinct to withdraw into themselves. I chose to protect the character of freedom with a blanket, a recurring object in my work. Here it takes the form of a yellow rectangle, which creates a balance with the blue white red flag. In my work, I use only the three primary colors. For this one, I made the choice of collage and this mineral and very fragile element that is chalk. Graffiti has been my way of being and communicating for thirty years, and I wanted to keep a certain improvisation and imperfection, to make my gesture better felt. I always liked simple images. My intervention on this first cover is neither cynical nor squeaky. The register is rather that of the saudade, this melancholy borrows from nostalgia, allied to a conviction in the act of resilience embodied by the guardian angel. His eye is projected on the flag: he watches over France and over freedom, as does the guardian angel. Libération. I believe in man's strength of character and his ability to bounce back. I wanted to show this potential for rebirth: freedom is constantly being tested, but it "regains strength". Michael Jackson's death represents the end of a dream world, but this rupture is subjective, because the pop icon's music is still there. I like to talk about the most serious things with poetry, because that's what sets the messages in time. My work is full of hope and utopia. Yes, my vision of the world is positive, because I believe that the professions of journalist, of artist, can participate in an implacable way in a world of freedom. My front page must be more than a simple illustration, I want it to have a force of impact in its construction, I want it to call out."