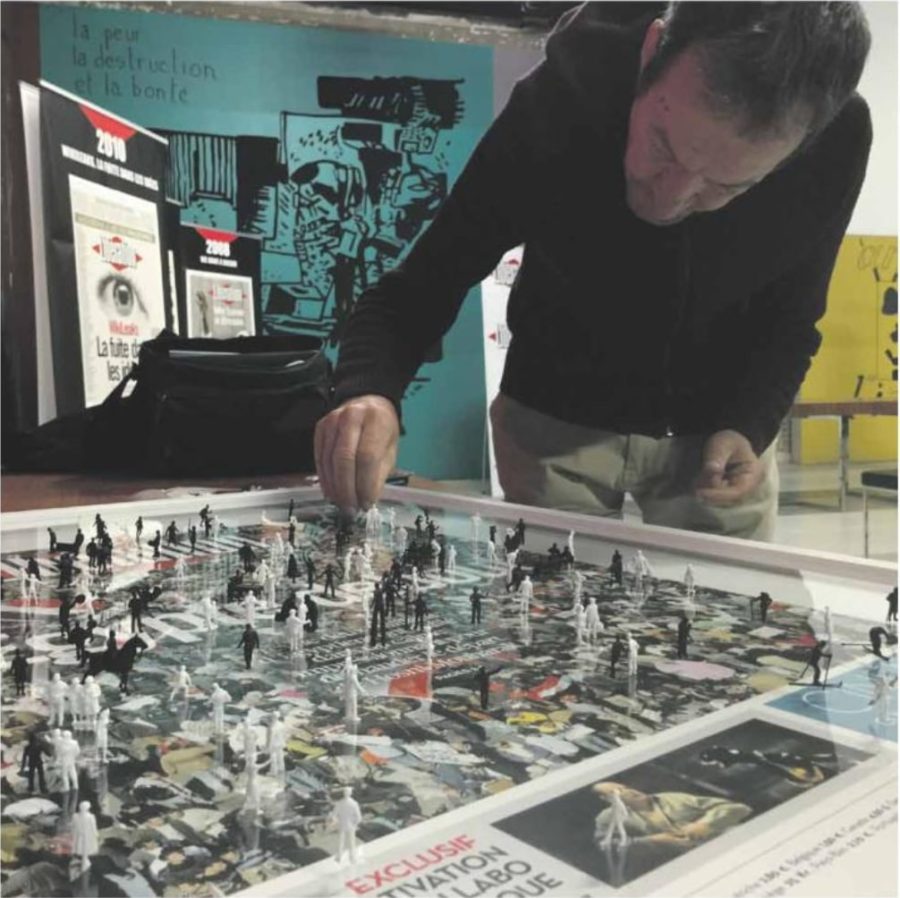 Collage of plastic figurines (+ or - 300) painted in black and white (scale 1/89°) on photo (glass) of the cover of Libération
H.73 x W.60 cm
H.89,5 x W.76 cm (with frame)
1958 Birth in Villefranche sur Saône.
1987 He graduated from the Beaux Arts, and began to work on a series that he will not give up any more: the Statistiques. These statistics, gleaned from the press, give their name to his first works: "Only 1% of the French dream of becoming Prime Minister", in 1987, "Only 14% of the French would have gone without a society without hierarchy and without a leader", in 1988, etc..
2012 "Crowds that hold", at the Chapel of Carmel, Chalon-sur-Saône. " Espace Public ", at the Galerie Perrotin (Paris), which represents him.
2014 Solo exhibition "1/87°", at the Center for Contemporary Creation (CCC) in Tours. He participates in the exhibition " G I R L, curated by Pharrell Williams ", at the Galerie Perrotin (Paris).
2015 Permanent installation "Horizon Chromatique", Washington Plaza, Paris.
Libération 2016
EGYPTE DEBOUT
By Guy Limone (1958, France)
"On this front page, which talks about the Arab revolutions, I see first a crowd, then the details, the people, who can easily distinguish it. That's good, I work a lot, in my works, on this idea. For a long time, indeed, crowds have been bothering me. I even collect them. For about fifteen years now, I have been cutting out images of crowds from newspapers and magazines, for a series of collages I am still working on, which I have so far shown very little. These crowds, they are in stadiums, in demonstrations or in the suburbs. I don't know exactly where this fascination comes from. Probably a bit of my childhood. I come from a very large family, seven children. So it was already crowded at home. So the question of "how do you stay an individual in a group" came to me very early on. Then, when I moved to Marseille, the crowd continued to work on me. I had my workshop on the Old Port, where people continually gather: there is always a demonstration or an event that justifies gathering in large numbers. I bathed in this multitude. I also like the idea of color in crowds, color being a central notion in my work. To communicate, the crowds paint themselves. White or red steps, yellow shirts, red hats, gathering of greens, or navy blue... The crowd wears color well. I chose to cover this one with small figurines of train models. There are about 350 of them, painted in black and white. I have been using this material very often since the year I graduated from the Beaux Arts in 1985. They are made in Germany, and look like miniatures of very realistic sculptures, while being toys. They are therefore a form of synthesis between my profession of youth, when I worked in airy centers to pay for my studies, and my profession of today, that of artist. I practice them on a scale of 1/87° or 1/160°. Why this material? Because the figurine evokes to me at the same time the detail and the number. They are a game between minimalism and children's toys. I thus create my own crowd, which makes us leave the image for a reality in volume. »