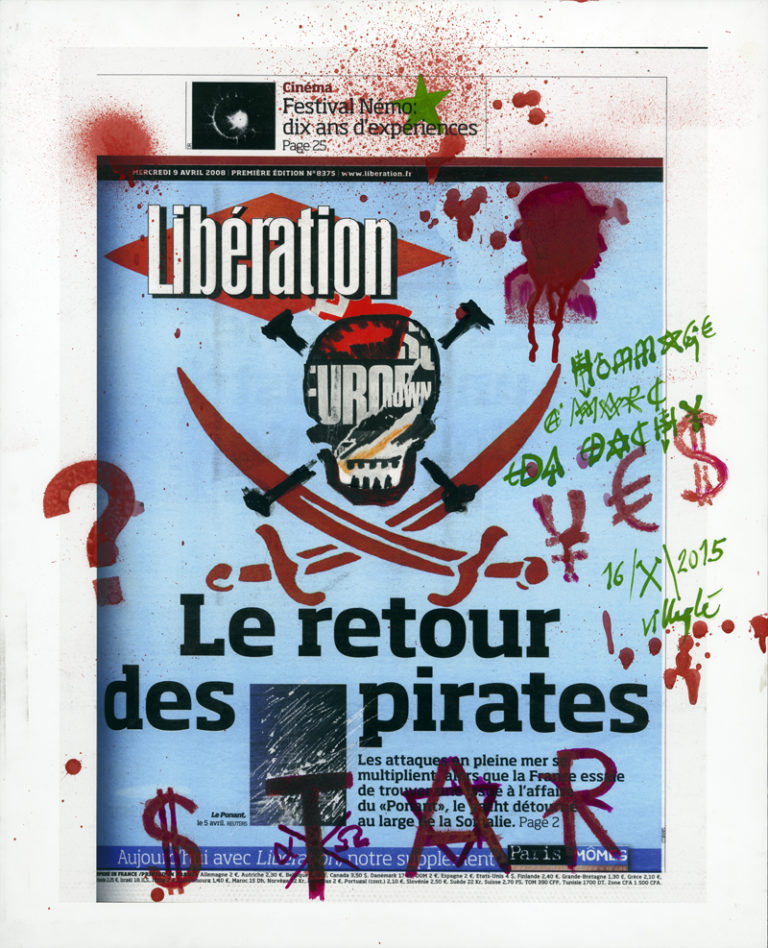 Stencil and spray, watercolor, collage and scraping on paper print 210g
H.74,5 x W.60,5 cm
H.89,5 x W.76 cm (with frame)
1926 Birth in Quimper (29)
1945/1947 He studied at the Beaux-Arts in Rennes, where he met the visual artist Raymond Hains. He continued his studies at the Beaux-Arts in Nantes.
1949 He begins, with Raymond Hains, to create works from torn posters collected in the street.
1957 First exhibition at the Colette Allendy gallery (Paris).
1960 Alongside Arman, François Dufrêne, Raymond Hains, Martial Raysse, Daniel Spoerri, Jean Tinguely, Pierre Restany and Yves Klein, Jacques Villeglé signed the manifesto of the New Realism.
2008 The Centre Georges Pompidou is dedicating a retrospective entitled "La Comédie Urbaine" (The Urban Comedy) to him. Jacques Villeglé is now represented in France by the Georges-Philippe & Nathalie Vallois gallery (Paris).
Libération 2016
Le retour des pirates (The return of the pirates)
By Jacques Villeglé (1926, France)
"In the 1930s, posters were the newspaper of the street. The poster artists of the time were in dialogue with avant-garde painters. At a very young age, I developed a poster culture and started collecting torn posters as early as the 1940s. I chose them for their plastic aspect, even if they sometimes had a political resonance. They seem to me to correspond to this definition of Maurice Denis, from 1880: "... the poster is the most important thing in the world.A painting, before depicting a naked woman or a battle horse, is essentially a flat surface covered with colors in a certain order assembled together". I am not against painting, I don't believe in the end of art. I am for conceptual painting. Cubism is for me an important starting point: it is no longer reality that matters, it is geometry. I am not a good draftsman. Very early, at the age of 17, I stopped drawing. What's the point, I told myself, then there's photography... I wanted to do something new. In the end, the front page of a newspaper is not very different from a poster. This one in particular: "The Return of the Pirates" would make a good movie title. I didn't take into account the news related to that headline. As I am Breton and a sailor, this theme inspired me. Pirates and privateers are part of my youth mythology. The skull and crossbones and the sword remind me of my childhood novels. Pirates, among all the awful ones of our time, always make us dream, and not only children! They are "stars". This attraction is not a matter of morals, it belongs to the territory of the imagination. For this one, I started working in the morning and finished in the evening. I used the techniques that are familiar to me: scraping, collage, bending. I used stencils that I already had. I also used the socio-political alphabet that I created in 1969 on the occasion of Nixon's visit to General De Gaulle. The result was not to appear fabricated. Libération is a beautiful word, perhaps even more so for those who, like me, have experienced the Libération. So I decided to respect it: if I added a little red, to break the logo, I still left the name! Whoever designed this front page won't feel attacked by what I've done with it, I even think he'll be amused: I accepted its layout, I only expressed it in another, more personal way. I don't offend anyone... Except pirates maybe! I dedicated this front page to Marc Dachy, the day of his funeral, October 16. It seemed to me that this idea of the pirates' return would have suited him. »