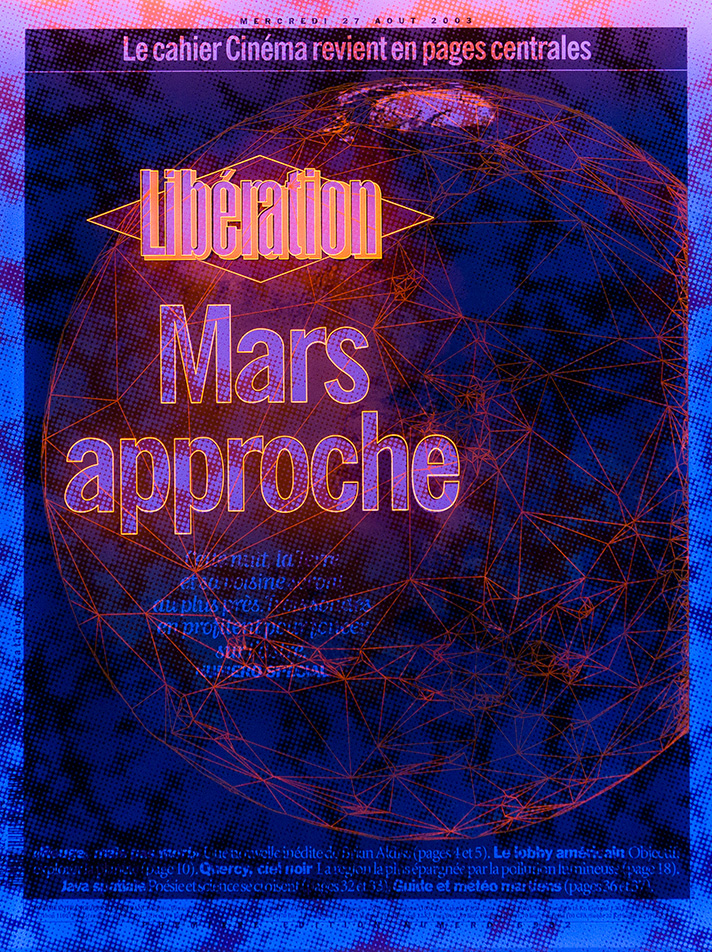 Acrylic, LED and fluorescent paint
110 x 92 x 7 cm
1974 Born in Hong Kong.
2001 He graduated from the Art Center College of Design in Pasadena, California, as an Art Director Applied to Advertising Design.
2003 Teddy Lo, a pioneer on the "Tech-Art" scene, presents Morphology, his very first solo exhibition, in Soho, New York.
2005 He founded LEDARTIST, his LED design consulting studio for international customers.
2010 POV Series ("Positive Void") screened at 798 Art District in Beijing (China).
2011 He academically validated his work on light by completing a Master's degree in Lighting at the Queensland University of Technology (Australia).
2012 Waking Life, exhibition at the Museum of Art and Design in New York.
Libération 2016
Dark Matter
By Teddy Lo (1974, Hong Kong)
"I am personally fascinated by the planets and the discovery of the universe. So this headline, obviously, speaks to me. With the latest technological advances, we're getting closer and closer to Mars, it's simply extraordinary. For us humans, the conquest of space has something fundamentally existential. Our own history is in the solar system. It is a question of looking for what will tell us where we come from and who we are. It's terribly inspiring. The universe and its planets, I almost made a career out of it. For a while, I wanted to work in Los Angeles in special effects for science fiction films. Star Wars,, Alien... I am passionate about this kind of cinema. And then, finally, I became an artist. The "light art" as I practice it combines three main dimensions: sculpture, manipulation of the light spectrum, which I use to play on the notion of visible/invisible, and interactivity. Principles that inspired my intervention on this front page. I wanted to give it a more digital existence. In fact, all these images of planets are at first only... images. It is a reality perceived through the mediation of technology, a filtered reality. Through a telescope, a video camera, a photo camera, etc.. This impossibility to see space with our own eyes other than through these media necessarily influences the visual representation that we make of it. I then decided to add a spectrum of light. The idea is to reveal the invisible: dark matter. This famous dark matter is in itself fascinating. We know it exists, but we don't see it. It maintains everything, but remains elusive. Here, light must give it an existence. My installations, as a rule, seek to surprise, but above all to generate something new, something unprecedented. This reflex is a legacy of my life as an art director in advertising. In advertising, the job is governed by a precept: "Doing something you've never done or seen before". This idea, it is chasing me. »