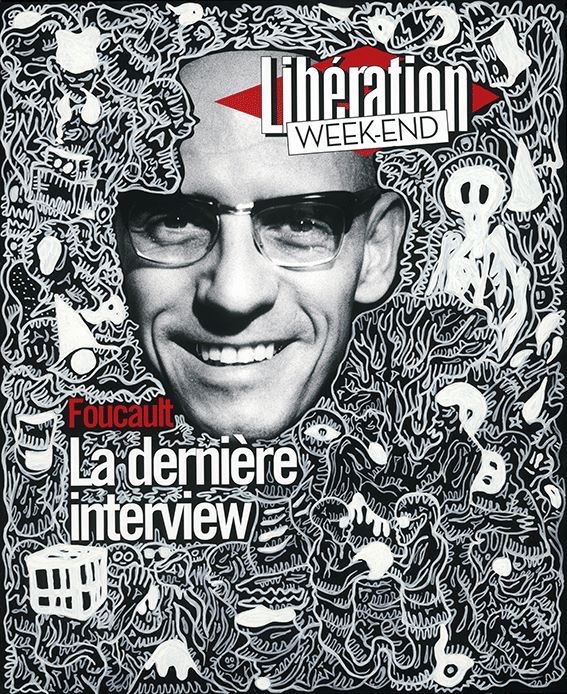 Acrylic on paper print 210g 
H.74,5 x W.60,5 cm
H.89,5 x W.76 cm (with frame)
1975 Birth in Vincennes.
2000/2001 He graduated from the Beaux-Arts of Paris, then from the Beaux-Arts of Nantes.
2002 "No Idea", his first solo exhibition, at the Centre de création contemporaine (CCC) in Tours.
2009 Fabien Verschaere participates in two major group exhibitions in Paris: "La Force de l'Art 02", at the Grand Palais, and "Vraoum", at La Maison Rouge.
2014 "The small theater of Muxuland", personal exhibition at the Musée d'Art Moderne Saint-Etienne Métropole.
2015 Publication of his work L'abécédaire de Fabien Verschaerea poetic autobiography in images and text, edited with Robert Fleck, published by Gli Ori Editions.
Libération 2016
Foucault, la dernière interview
By Fabien Verschaere (1975, France)
"I discovered and studied Foucault at the Beaux Arts. His mythology and philosophy have never left me since. Foucault is first and foremost an independent and nomadic thought. The idea of territory and its exploration permeates man and his work. Contrary to Deleuze, my other favourite philosopher, Foucault is not a immobile traveller. He has traveled a lot, anchored his research in the field, experienced singular encounters, the ultimate example of which is his immersion in the universe of sadomasochism. A nomadism of body and mind which, in my opinion, still resonates strongly with the times and its current events. There is also her reflection on the body. For me, as a visual artist, the Foucaultian idea of the body as the starting point for a coming and going with the world is primordial. The body is not the bee that gets agitated, but the hive, which fills up with comings and goings to the outside. Moreover, the body is also the first of the imprisonments. Foucault also speaks of this. In artistic practice, at certain times, my body is a prison from which I cannot escape. From a personal point of view, I think I can say that Foucault inspired my spiritual wanderings, which today tend towards animism. And for me, who works with images, Foucault is quite fascinating. He's a great speaker, so I didn't read much of him: I listened to him mostly by watching videos of his conferences and interviews on Youtube. This voice, this shaved head... He evokes to me a very seventies aesthetic. This front page of Libé imposes an almost christic effect: by announcing "The last interview", she promises as a revelation. I chose to work very simply on this image. A black acrylic background, and a white gouache, with pine-water. It says duality, in the dialogue of black and white. It speaks of illness, schizophrenia, madness, ... This white line is like a thread. A dance. It is not a compositional drawing, it is a performance, in a well defined time, with a beginning and an end. »