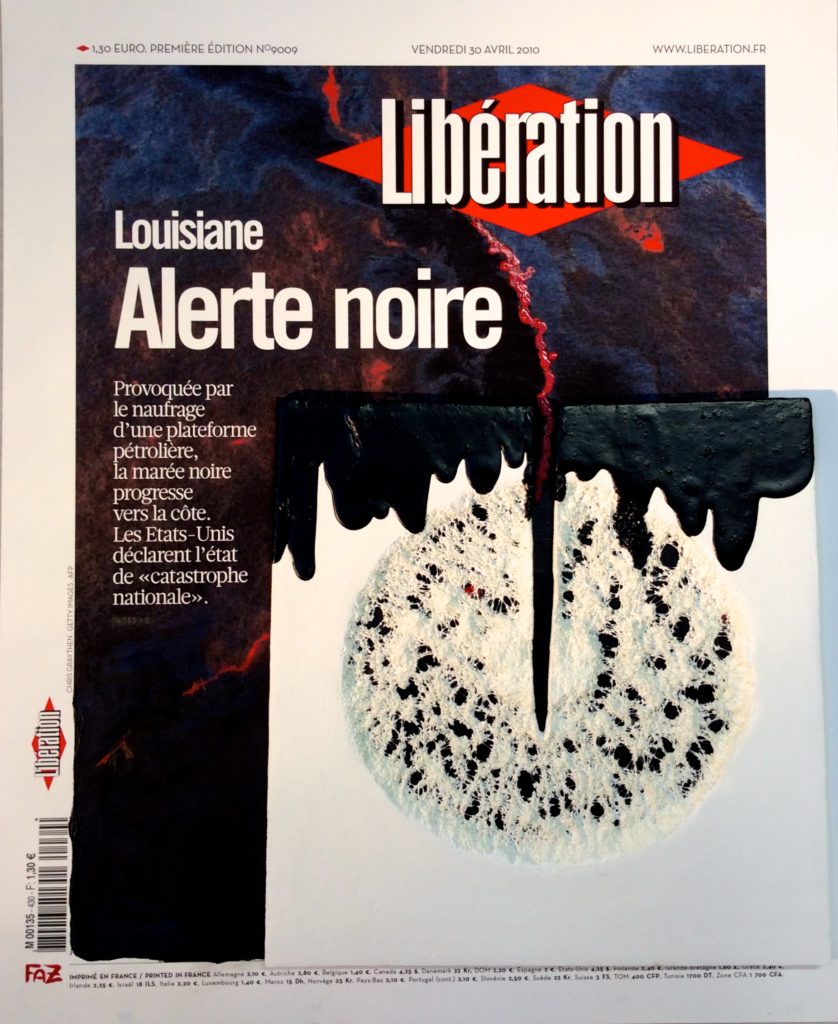 Polystyrene, pigments, tar and pyrotechnics on paper print 210g
H.73 x W.60 cm
H.89,5 x W.76 cm (with frame)
Birth in Madagascar. Childhood in New Caledonia and Martinique. She then goes to Provence and Nice. She discovered sculpture with a Dutch artist, Marga Brey, a friend of her family who came to spend her vacations in the South of France.
1988-1992 In spite of her attraction for plastic creation, she finally embraces a scientific career. FAZ was a researcher in agronomy at CIRAD for four years (Montpellier).
1992 Arrival in Paris. She works in the research of new materials in an architect's office.
2005 First personal exhibition at the Orangerie du Sénat (Paris). Sculpture then becomes her priority.
2007 Exhibitions at the Salon de Montrouge, Shanghai Sculpture Space (China) and at the European Commission in Brussels.
2008-2010 Travelling exhibition "Building Bridges", in four contemporary art museums in Mexico, San Francisco and Los Angeles.
2011 Exhibition at the 54th Venice Biennale.
2015 Festival a-part, Parcours Saint Germain, Biennale de Sologne.
Libération 2016
Marée Noire
"It's a nightmare front page. It represents this black fluidity, deadly and asphyxiating, which covers the sea. Who could imagine that after the Amoco Cadiz in 1978 and the Erika in 1999, such a catastrophe could still happen? The announcement of this oil spill in Louisiana was for me a real shock, a stupor. It left me unresponsive and paralyzed. And for good reason: my work is totally turned towards the symbolism of nature. I summon the four elements. Water, in particular, occupies a central place, in its original, vital dimension. I grew up in Provence, where water is rare and sacred. For me, water is magic. It is movement and time passing. The oil spill is therefore, in my world, the worst nightmare. I see there the great paradox of a fluid, oil, resulting from life on earth, its sedimentation, its transformation, a potential source of energy, which resurfaces from the bowels of the earth, through man transformed into a demiurge, to come and corrupt the sea, water, the ultimate source of life. There is also a form of irony in this choice of one: my favorite material is polystyrene, produced par excellence by the petrochemical industry. Yet my sculptures say the opposite, they oppose this destruction. Polystyrene is a protective, shock-absorbing material. A kind of metaphorical bou clier to protect us from the aggressions of our time, a self-defense. With this front page, I wanted to represent the purity forever soiled, the interruption of the cycle of life. At a time when the world is looking to France and Paris for COP 21, my front page is not meant to be a denunciation. We are, by our way of life, all a little responsible. On the contrary, this work is meant to be a testimony, an appeal to vigilance and awareness of the fragility of life. I represented our planet by a circle enclosed in a square, man in his universe. Life is dying out, slowly asphyxiated by a black and viscous liquid coagulating on the surface of the earth. A sword stroke, a violent and irremediable jolt fractures this ideal composition, leaving a gaping wound".