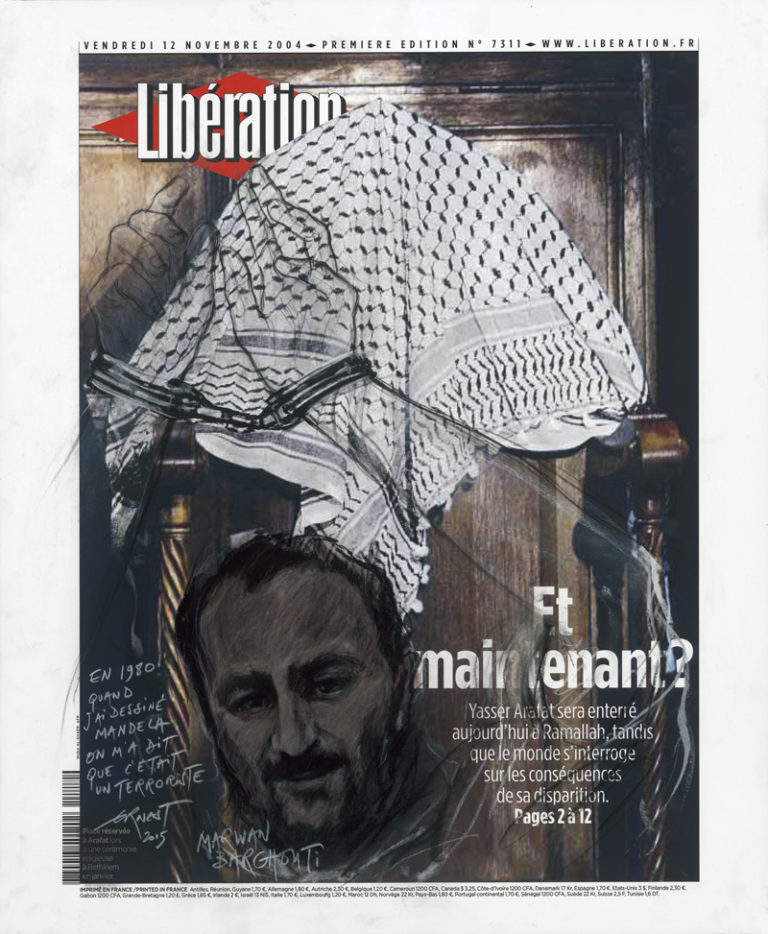 Drawing with black stone and chalk on paper print 210g
H.73 x W.60,5 cm
H.89,5 x W.76 cm (with frame)
1942 Birth in Nice.
1966 Plateau d'Albion (Vaucluse). Ernest Pignon-Ernest discovers that the French atomic force is going to settle down 30 km from the small café that serves as his workshop. He gets down to work. Unable to depict the destructive force of nuclear power in a painting, he resorts to a photo of Hiroshima: the shadow of an annihilated body, projected on a wall of the Japanese city. He will then reproduce this deadly stigma along the surrounding roads. These are his first stencils.
1968 Collage of drawings at the Festival d'Avignon, during a happening of the Living theater troupe (Julian Beck and Judith Malina). Glued on the walls and then torn with a blade, his drawings are offered to people who pass by and tear off shreds.
1988/1995 For eight years, he travelled around Naples, displaying his most accomplished work there. A tangle of symbolist and poetic journeys, summoning Greek, Roman and Christian mythologies, inviting Caravaggio, Vesuvius and his lava, the figure of the woman.
2015 40 years after Pasolini's assassination, he sticks on the walls of Rome, Ostia, Naples and Matera an image of the Italian poet, standing with his own body at arm's length.
Libération 2016
Marwan Barghouti
By Ernest Pignon Ernest (1942, France)
"This front page reminds me of a man I met a few years ago, and who has since disappeared: the great Palestinian poet Mahmoud Darwich. I met Mahmoud Darwich in Paris through a friend. One fine day, he confided to me that the poet would like to see me. I admire his poetry and, it is obvious that in my life and in my work, I owe more to poets than to painters. So the next day he is at my house. He told me he liked the Rimbaud route, this black silkscreen that I pasted on the walls of Paris in 1978. And then he suggested that I come and work at his place, in Palestine. I said yes. A few days before my arrival in Ramallah, on August 9, 2008, Mahmoud Darwich died. It was only the following year, in 2009, that I decided to make this trip anyway. To pay tribute to him. It was his turn to become a journey: I imagined his road, displaying his portrait in places symbolic of his life and work. Among the stages of this Darwich journey, there was first of all his native village. Or rather, what was his native village: Birwe - that's his name - was literally erased. Nothing remains of it, not even a ruin. It is a place whose existence was deliberately swept away. A disappearance that is the result of this will to deny that here were Palestine and the Palestinians. There was also the Ramallah market, and then, of course, Gaza. The Israeli authorities refused me access. So I entrusted this mission to local artists. We wandered together: them in the streets of Gaza, me in their wake, live on Skype, in the footsteps of Darwich, where we would put our stamps: the café where he used to go, the theater ... This tribute to Darwich embodies my work. First of all the drawing, an ethical choice, at a time when the images scroll at full speed, to exist only a few microseconds. Then the format. All my characters are at scale 1. A way of affirming humanity, of establishing an intimacy. Finally, the places. By their plastic dimension, by their poetic quality, they are my real material. My work is not a drawing, my work is a place whose humanity is suddenly exacerbated by a drawing. During this trip, in 2009, I was able to put images on the condition of the Palestinian people. Confined in camps since 1948, the Palestinians are worn out by an unbearable existence. And absurd: they live an hour away from the sea, and have never seen it. Their daily life is the confiscation of houses and fields, permanent humiliation. I saw, at a check-point, an old man forced to pull down his pants to check that he didn't have a weapon. In front of his little girl's eyes. He finally refused, preferring to turn back. So when I hear Valls talk about apartheid, it is good to remember that today the only situation similar to apartheid is Palestine. On this front page, I have chosen to represent Marwan Barghouti, an emblematic Palestinian politician imprisoned since 2002 by Israel. I took up this particular position, arms in the air and wrists handcuffed. It has become symbolic of the character, of his condition as a political prisoner. In the lower left-hand corner, I refer to Mandela. I knew apartheid South Africa. I mobilized against it. At the time, in 1980, I was told that I was drawing a terrorist... The parallel with Marwan Barghouti seems obvious to me. They say the same thing about him today. Because he is a credible interlocutor, they put him in prison. Whether they like it or not, the Israeli government will still have to talk with Barghouti. »