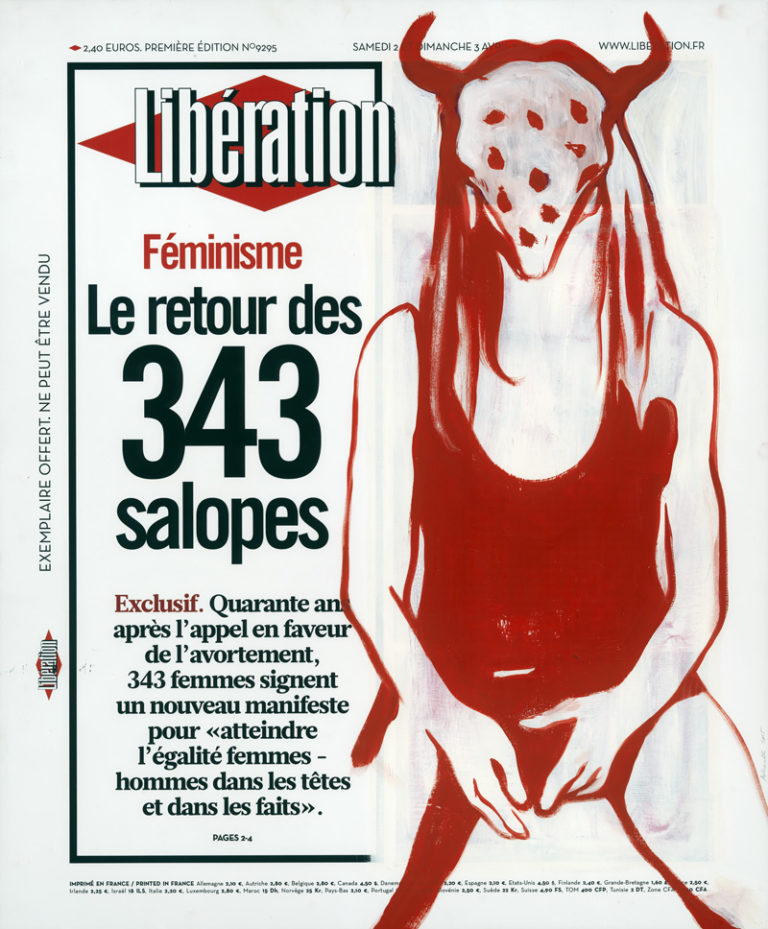 Oil painting on paper print 210g
H.73 x W.60,5 cm
H.89,5 x W.76 cm (with frame)
1964 Birth in Chambéry. After a technical diploma in graphic arts, Françoise Pétrovitch studies applied arts at the Ecole Normale Supérieure and obtains the agrégation in plastic arts. She now teaches at the Ecole Supérieure Estienne (Paris).
Since the 2000s, her work is exhibited in France and abroad (at the Semiose Gallery, the Museum of Hunting and Nature, the Mac Val de Vitry sur Seine, the Museum of Modern Art in Saint Etienne, the LAAC in Dunkirk...).
2015 She was selected by the National Museum of Women in the Arts in Washington D.C. to participate in the biennial exhibition Women to Watch 2015.
In 2016, her work will be exhibited at the Frac PACA and at the Château de Tarascon.
Libération 2016
Le retour des 343 salopes
By Françoise Pétrovitch (1964, France)
"We are revisiting our history, but where is the women's point of view, the one that is still missing today? The list of participants in the exhibition "Artists in the spotlight for freedom", almost exclusively male, reinforced my desire to invest a cover story dedicated to women's rights. I then realized, with the documentation department of Libération, that this theme was essentially treated from the point of view of political power, and that it rarely made the headlines! The one I have chosen, The return of the 343 sluts, is reduced to half a page. This marginalization challenged me, even though I see feminism as the struggle for all freedoms, and as a struggle that must also be fought with and for men. The fact that this front page has its own archive is significant: the 2011 manifesto is both a tribute to the petition published in 1971 in the magazine Le Nouvel Observateur and an acknowledgement of failure. Forty years after the publication of the list of the 343 French women who defended the right to abortion and opened up the adoption of the Veil Law, equality has not yet been achieved; the conquests remain fragile. This double temporality highlights the repetitions of a History that sometimes has difficulty moving forward. This 2011 manifesto, "Equality Now," is important and I support it. But it is revealing that its name is relegated to the background in favor of the historical evocation of the "343 sluts". Echoing this text of one, my painting contains an element of aggressiveness. The head of the female character is covered with a mammalian skull, reflecting a warlike and ambiguous attitude. This animal hybridization makes it possible to evade the question of age and identity, and reaffirms the universality of rights and freedoms: equality now, for all! I try to give art a right of response, to deliver a memory that is both individual and collective. History and current events. Current events and intimacy. These questions cross my work. For my project Radio-Pétrovitch, initiated in 2000 and continued over two years, I listened every morning to the first information on France inter and responded with a drawing. A second sketch, this time intimate and personal, completed this dialogue, which was built up with 1462 drawings. Here, I chose to respect and assume the initial bias of dividing the page in two. On the left side, I leave all its place to the title, which is very informative. On the right side, I erase the three frames in favor of a female figure. This composition allows a counterpart between the journalistic, written part and my artistic proposal. This one is neither an illustration nor a commentary. I would like it to propose an open interpretation. »