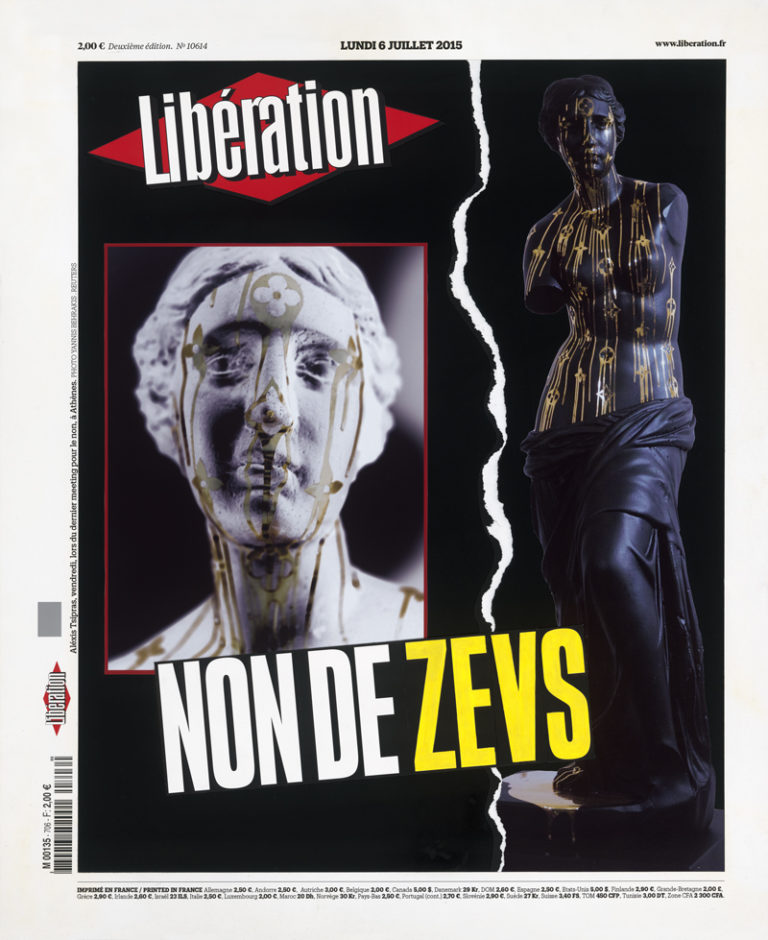 Mixed media on 210g paper print
H.73 x W.60,5 cm
H.89,5 x W.76 cm (with frame)
1977 Birth of Aguirre Schwarz in Saverne (Bas-Rhin).
1999 He founded the collective Anonymous with the street artist Invader.
2001 First solo exhibition in Paris, at the gallery Patricia Dorfmann.
2002 Beginning of the "Visual Kidnapping" in Berlin. Zevs cuts out and sequesters Lavazza's muse, leaving a gaping hole on the brand's huge advertising poster on Alexanderplatz. He demands ransom. Three years later, in front of the Palais de Tokyo in Paris, the artist delivers his hostage to false emissaries of Lavazza.
2008 " ELECTROSHOCK ZEVS ", semi-retrospective at the Ny Carlsberg Glyptotek Museum in Copenhagen.
2009 Arrest of Zevs in Hong Kong - appearance of Aguirre Schwarz.
2015 "L'Autobiographie d'Aguirre Schwarz. Une exposition de Zevs", CCA Andratx, Andratx Majorque, Espagne.
Libération 2016
Nom de Zevs
"I chose this front page first because it says my name. On July 5, 2015, like many, I waited impatiently for the verdict of the Greek referendum. And when I scanned the news I discovered the front page of Libé, I really enjoyed it. I have been signing Zevs (pronounced "Zeus") since 1992. Date when, in the middle of a graffiti session in the Parisian basement, I almost got run over by a RER (suburban train) on the A line named ZEUS (line A). Because yes, the RATP gives names to its trains. There are also HULK, NEMO, ZEBU, etc.. So I made his name my own. Later on, I will make it the acronym of "Zone d'expérimentation visuelle et sonore" (Visual and sound experimentation zone). At the time I worked a lot in urban space, especially in Paris. I wore a yellow service suit, to integrate myself into the landscape, I marked out my experimentation zone with security tape, to delimit my creative perimeter, and then I intervened on this environment. Then, strangely enough, this name strongly influenced my universe. It was a guide, and pushed me to question notions such as omnipotence, power, within a mythological framework. I finally developed a pictogram to illustrate this name: a lightning cloud. More than a signature, this picto became my logo in the street, where I decided to compete directly with the logos of major brands, all-powerful in the public space. With them, it's a real turf war. The omnipresence of advertising raises, in my opinion, the question of freedom of expression in the city. I developed my series of Visual Attacks in this spirit. In the early 2000s, I began to consider large advertising tarpaulins as canvases, and billboards as picture rails. I painted red paint flows on the eyes and foreheads of the models in the ads. I was a serial killer of advertising images. Until it became too complicated: the surveillance of the guards, the painted posters removed immediately, etc. I was a serial killer of advertising images. I finally left Paris for Berlin. The relationship to the city is different there. From my first steps, I felt a breath of freedom, the possibility of going even further in this type of artistic expression. The art-publicity battle is just as lively there, but the city leaves more doors open. And then the citizens are reactive. In 2002, when I kidnapped the mannequin of a large Lavazza poster, while cutting it up, others imitated me. All over Germany, a great wave of visual kidnappings hit commercials. Models but also objects disappeared, cut up by other artists or activists. On this front page of Libé, I make the silhouette of the politician disappear and replace it with a Venus de Milo. To do so, I started from a rather crude replica: a garden sculpture. I refined it, then I transferred his image to the newspaper. After having passed it in black, I adorned it with these golden flowers. The gold that spreads under her toga suggests that she urinated on it. This great symbol of the Hellenistic civilization becomes then quite other, a Venus disguised and soiled, sold to the highest bidder. »