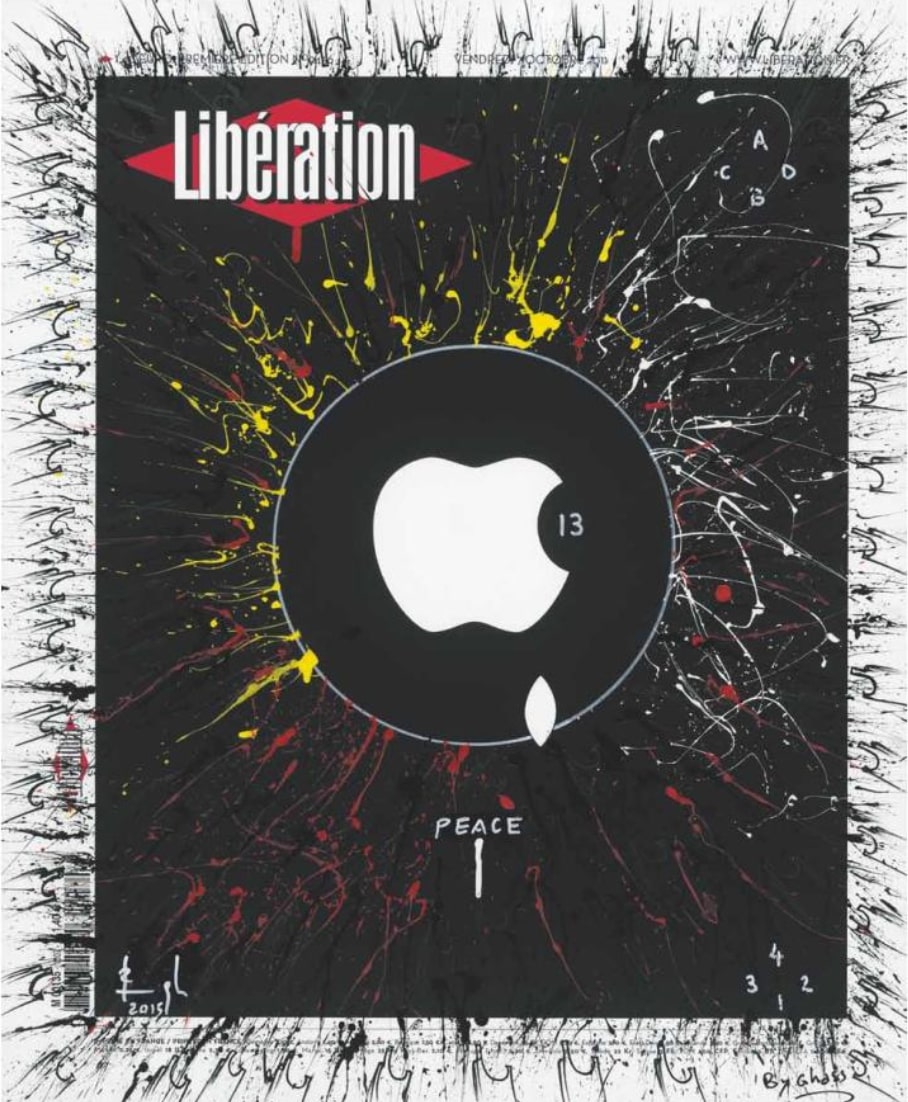 Acrylic and mixed media on paper print 210g
H.74 x W.60,5 cm
H.89,5 x W.76 cm (with frame)
1964 Born in Shiraz, Iran.
1972 At the age of 8, he sells his first painting. The drawing, which shows Bruce Lee surrounded by dragons, is purchased for $1 by a classmate.
The 80's At the end of high school, he was drafted into the army, in the middle of the Iran-Iraq war (1980-1988). He was an ambulance driver.
April 6, 1989 Arrival in Paris, where he joins his brother Golan, with whom he works today.
1993 He sells his first drawings and paintings in Paris. After being successively a pharmacy assistant, interior decorator or installer of Christmas windows, he realizes, once and for all, that his real profession will be painting.
2015 Installation of the first monumental sculpture of his "Peace" series, in the garden of the University Paris-Dauphine.
2016 Alpine Project. Ghass is chosen by the manufacturer of the mythical racing car to create an "art car".
"For 20 years, I worked only three colors. Red, black, white. These colors imposed themselves on me one night. I adopted them almost unconsciously, to make them the essence of my abstract painting. These colors say blood, darkness and peace. They are the remnants of my eight years of war in Iran, when I was sent to the front, just after high school. If my painting grew up in France, it was really born there, in Shiraz. Also, when I saw this front page, the colors struck me. Black, white and red, everything was there. And then, the fact is that Steve Jobs is someone who inspires me. He's a genius who marked the century, created possibilities. And yet, I'm not very connected... I don't have a television, or even the Internet at home. But the work he left behind, the result of his extraordinary capacity for work, impresses me. The work takes an immense place in my own life. It is my balance. I spend a lot of time in my studio, alone, in silence, working. I chose to add to the Apple apple a planet, which takes the shape of another apple, in the right way. The leaves grow, it is the rebirth, the spirit that remains. And a way of saying of Steve Jobs that he didn't finally fall. That the fruit of his work is still there. »