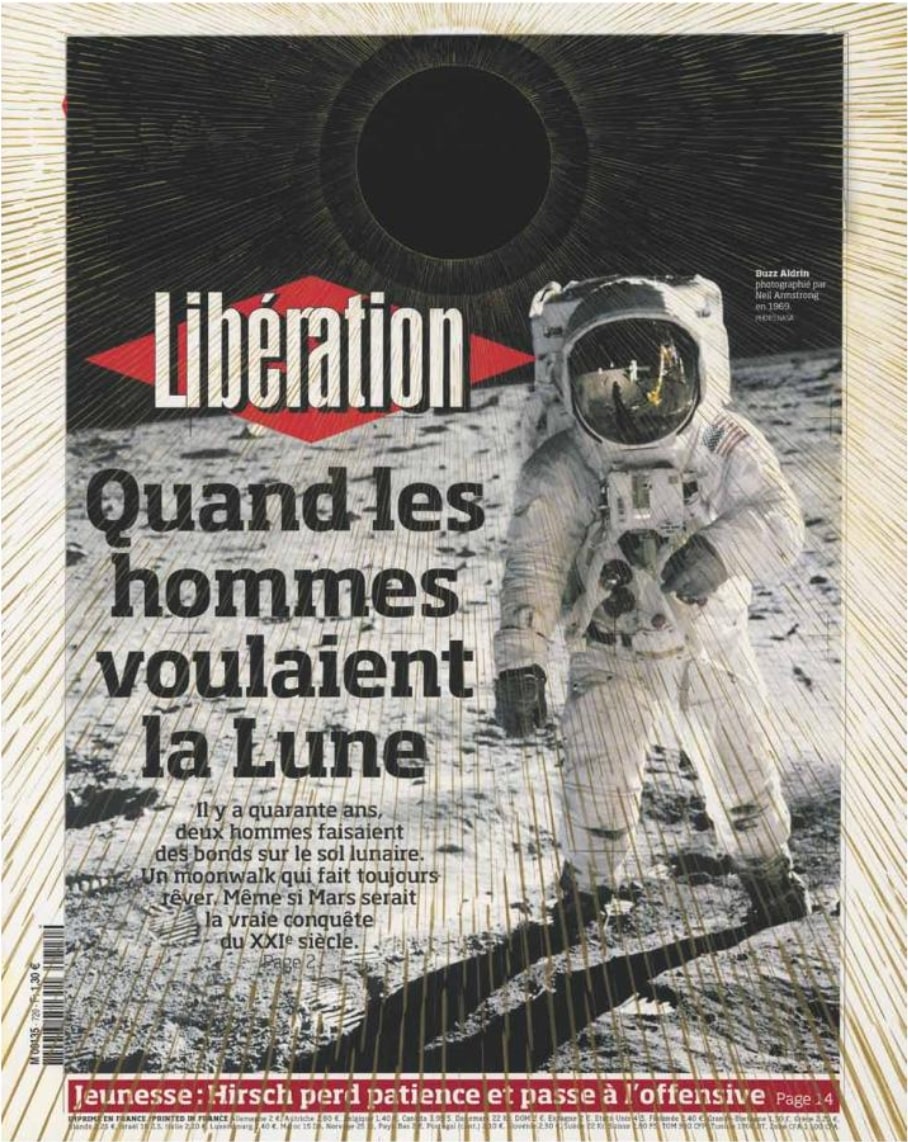 Oil and gold on paper print 210g
H.69 x W.56 cm
H.89,5 x W.76 cm (with frame)
1972 Birth in Mulhouse.
1999 Graduate of the Paris School of Fine Arts.
2004 In residence at the Villa Medici.
2008 Winner of the prestigious Marcel Duchamp award for his video Sans titre (Untitled), he is invited to exhibit in space 315 of the Centre Pompidou (Paris), where he presents The Horn Perspective in 2010.
2012 The Musée du Jeu de Paume (Paris) is dedicating to him the exhibition Uraniborg.
2014-2015 His exhibition Soleil Double (Double Sun) is presented at the Galerie Perrotin (Paris), the Sean Kelly gallery (New York) and the Fondation d'entreprise Hermès (Tokyo).
Libération 2016
Studies into the Past
By Laurent Grasso (1972, France)
"Astronomy is very present in my work, but I am not interested in the discipline itself. I see it rather as a material for constructing fictions. I have made several films depicting imaginary natural disasters : a double sun enlightening EUR, a district of Rome with fascist architecture, a cloud of pollen invading the city of Berlin (Polair), or a false aurora borealis (1619). My next project Solar Wind is a light installation realized in collaboration with the Centre national d'études spatiales (Cnes). It will offer, on concrete silos of the XIII district, a barometer indicating storms and solar winds. The sky has always crystallized anxieties, and it still generates today fears and speculations. The space weather, a recent object of scientific research, is a receptacle of these new fears : the éruptions solar eruptions pose the threat of solar flare black-out, as happened in Canada in 1989. On this one, I have added an extra star, in echo to a series started a few years ago, Studies into the past. The golden rays evoke a era old, situating the action in a temporal in-between. This hybrid crossing places the spectator in a state of questioning. Going towards a form from elsewhere, to give to see the world differently, is a constant in my work. It is not pure fiction or science fiction. I rely on scientific bases, on facts of current events or history. The reality offers a rich and surprising field of research: in the 1960s, the conquest of the Moon was a metaphysical and political issue, which generated a vast imaginary territory, generating fiction. Today, the role of an artist is to show the complexity of the world. Faced with some media which are in the simplification and the shortcut, the artist must accompany those who seek to have a quality of analysis of the real. »