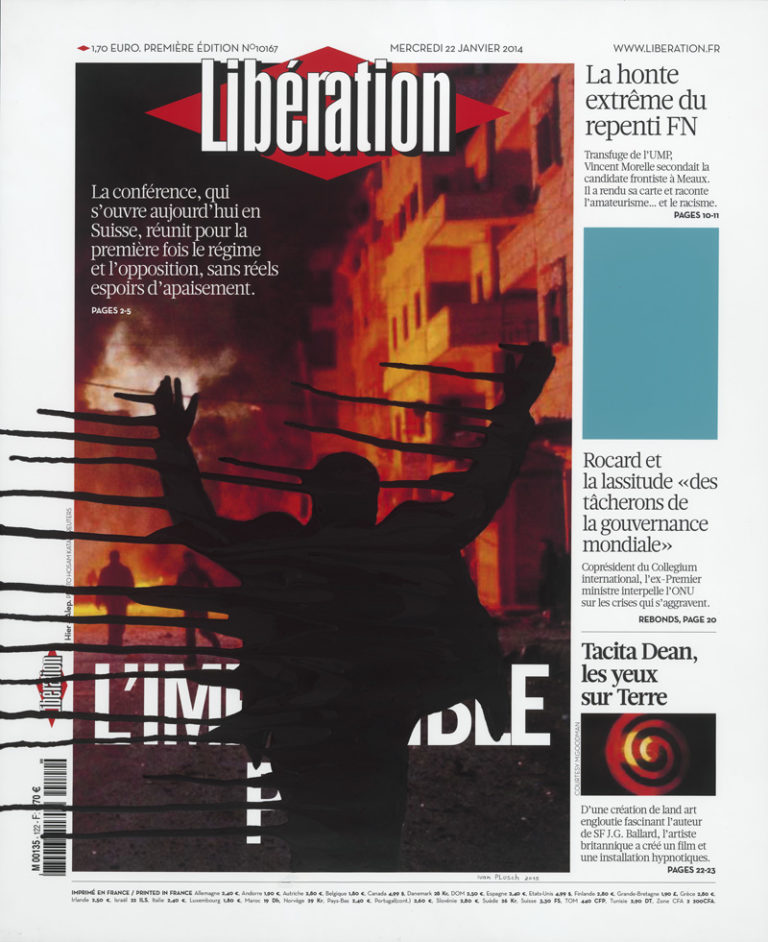 Acrylic on paper print 210g
H.73 x W.60,5 cm
H.89,5 x W.76 cm (with frame)
1981 Born in Russia.
1991 Ivan Plusch was 10 years old when the USSR died. The great societal and sociological upheavals that are in preparation will strongly infuse the creations of the adult Ivan Plusch. Alienation and freedom of expression, media or the relationship between man and society are among his favorite themes.
2003/2009 He studied at the St. Petersburg State Academy of Art and Design.
2010/2013 Ivan Plusch is in residence at the Cité Internationale des Arts in Paris.
2015 He participates in the group exhibition "Glasstress 2015 Gotika" (Venice Biennale). Solo exhibition "Strange/Private" at the Iragui Gallery in Moscow.
Libération 2016
Syria. no comments
By Ivan Plusch (1981, Russie)
"In Russia, we are trying to follow what is happening in Syria, but it is not easy: the disinformation organized for the government does not help to see clearly, nor to understand this war. Information and war are, moreover, two strong themes in my work. Working on this one, this purely media object, was therefore quite natural for me in the end. In my artistic practice, I often use television images. It is a dangerous and fascinating material. In front of their television, people start thinking like a crowd, they give up the habit of making up their own minds, stop thinking individually. I referred to this problem very early in my career. One of my very first solo exhibitions, at the Orel Art gallery in Paris, in 2010, was called "News! It was precisely interested in information as exploited by the media of images in our contemporary society, and the confusion that this daily flow generates in us. This front page of Libé evokes all this to me: this guy who raises his arms, we don't know who he is or what he says. This image symbolizes for me the doubt, even the suspicion, that all information intrinsically conveys. It also underlines our powerlessness, as recipients of information, to grasp its subtlety and truth. I decided to make this man disappear, through painting, to reinforce the confusion of our gaze on this information. Beyond the field of the media, freedom of expression is obviously a sensitive subject in Russia. Today, as an artist, I can say pretty much what I want. All the same, it remains a form of deaf anxiety. One day, I exhibited a painting in Moscow. It represented Dmitry Medvedev, President from 2008 to 2012, and Putin's right-hand man. I made it disappear by the technique of cast painting. People from the government did not like this painting, and they came to tell me. Nothing happened to me, I wasn't arrested, certainly, but all the same. They were there, they reminded me of it. In 2013, it was a sculpture that I was exhibiting, still in Moscow, and I was forbidden to exhibit it because it was considered too political. The day when we can no longer say what we want here, then we will leave. »