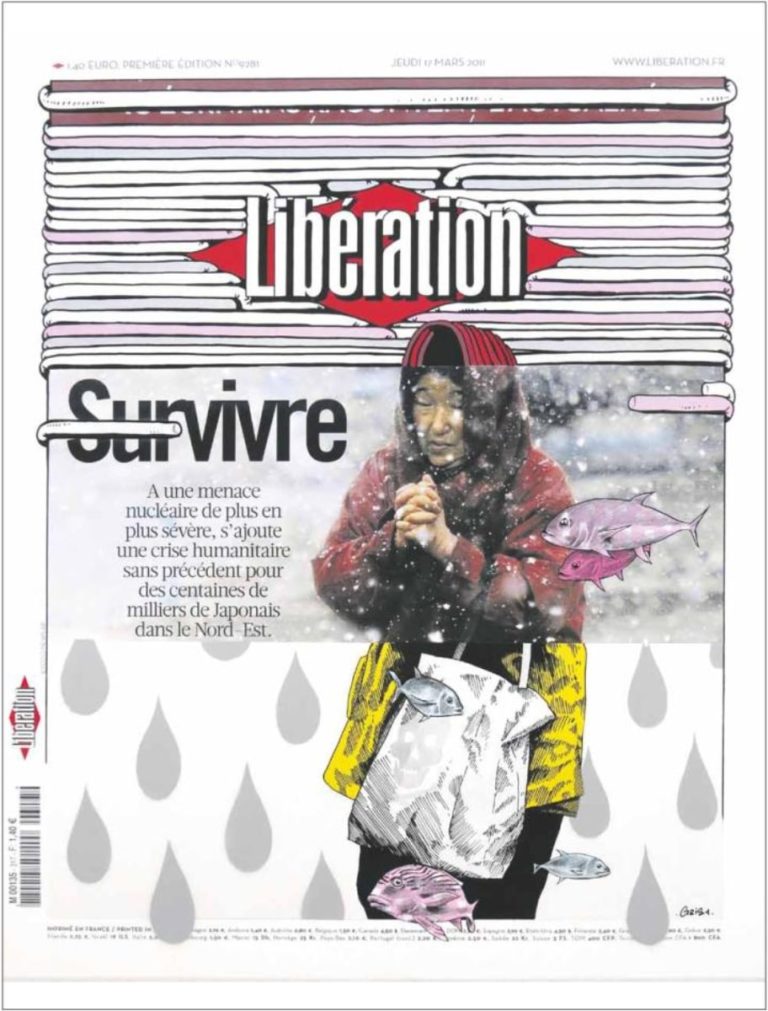 Acrylic, marker, spray and pencil on paper print 210g
H.73,5 x W.61 cm
H.89,5 x W.76 cm (with frame)
1981 Birth in Aix-en-Provence.
2005 He participates in a group exhibition at the Taxie Gallery in Paris.
2012 First solo exhibition at the Backside Gallery in Marseille.
2013 His work is presented in many galleries, from Melbourne (Australia) to Weilam-Rhein (Germany), London or Montpellier.
2014 As part of the exhibition In out at the Maison des arts de Créteil, Gris1 intervenes in duo with the street artist Terez.
2015 His works are the subject of an exhibition at the Swiss gallery l'Atelier des Bains in Geneva, entitled Humanity. Evolving in the world of graffiti since his teenage years, Gris1 is a member of the famous DMV (Da Mental Vaporz) crew and has left his mark on the facades of many cities, in Seville, Barcelona or Grenoble. He now lives in Lyon.
"The nuclear accident in Fukushima is a major ecological disaster that affects the whole world. The photograph on the front cover is particularly touching to me because it expresses the innocence of the victims of this tragedy, through the portrait of an old woman. We imagine her living next to the power plant, and cohabiting in spite of herself with this time bomb. I wanted to pay homage to these sacrificed innocents, with my paint bombs and pencils. This revisited front page also shows the dangers of consuming nuclear electricity, this product placed at our disposal, and which we use without being wary. This accident spilled a real poison in the air and in the sea: the acidulous and fluorescent colors evoke radioactivity, the yellow jacket reminds us of the protective suits worn by nuclear workers, and the bag worn by the old woman is marked with a skull and crossbones. This childlike aesthetic, essential in my work, allows me to convey messages in a playful way. Ecology is a crucial issue for the future of future generations. It is urgent to reappropriate basic knowledge (to cultivate, to raise, to produce) to consume differently. Solutions within our reach exist for the problems we encounter on a daily basis, but their implementation implies a general awareness, which involves questioning the capitalist system. Fukushima is the sad demonstration of the consequences of the irresponsible desire for enrichment of companies, politicians and shareholders. In order to live, and not survive, we will have to learn to be autonomous and to stop consuming according to the will of capitalism... It would be for us a real LIBERATION!".