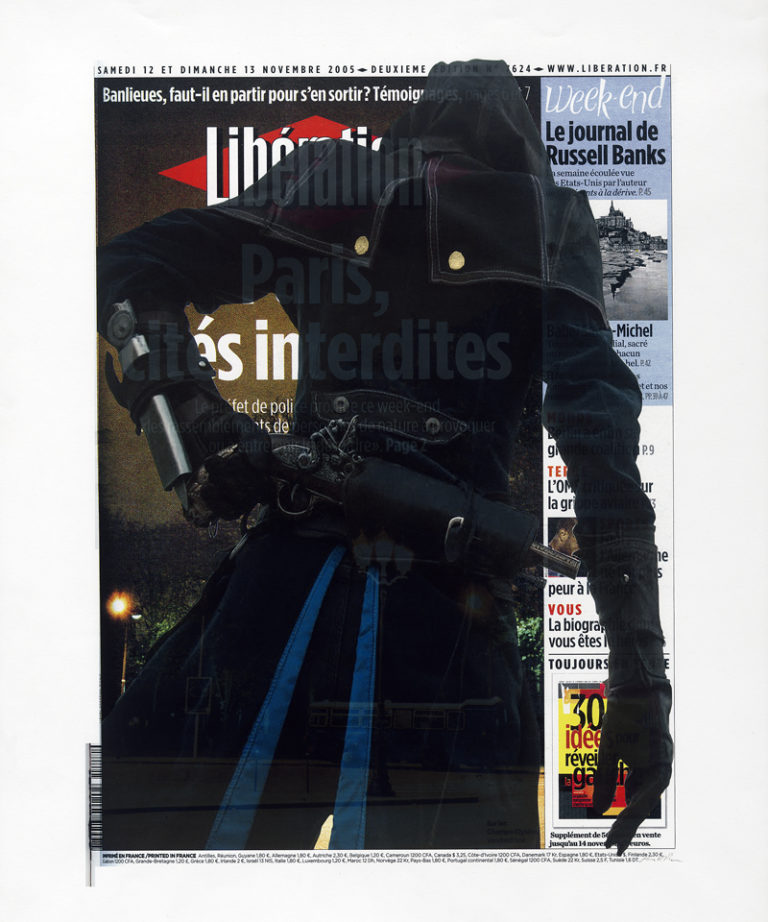 Digital printing on 210g paper and 24 carat gold leaf
H.80 x W.60,5 cm
H.89,5 x W.76 cm (with frame)
1967 Birth in Copenhague (Danemark).
1987/94 Henrik Plenge Jakobsen studies at the Royal Danish Academy of Fine Arts in Copenhagen.
1992/93 He lives in Paris and studies at the Institut des Hautes Etudes en Art Plastique and at the Ecole Nationale Supérieure des Beaux Arts.
1994 Back in Denmark, he begins a collaboration with Jes Brinch. Together they present the installation Burn out - Parking, in Copenhagen.
2003/2010 Several important exhibitions are dedicated to him: Henrik Plenge Jakobsen, Circus Portikus in Portikus (Frankfurt am Main, Germany), Manhattan Engineering District at FRAC Pays de la Loire (Carquefou, France), Mainframe at Kunstverein für Die Rheinlande und Westfalen (Dusseldorf, Germany).
2014 La Galerie parisienne Patricia Dorfman, qui le représente en France, lui consacre l'exposition Defaced.
Libération 2016
Cités interdites (Assasin's Creed Unit)
By Henrik Plenge Jakobsen (1967, Danemark)
"In the 90s, I was a student at the Beaux-Arts and the Institut des Hautes Etudes en Arts plastiques in Paris. I felt a real social violence, much more than in Denmark. France is a class society. The inequalities there are, in my opinion, more cultural than economic. This imbalance is partly expressed by violence, which I believe can bring about change, although I am a pacifist. During the events of 2005, I was abroad. But that headline brought me back to the feeling I had in Paris. Urban violence has long fascinated and inspired me. At the beginning, alongside Jes Brinch, I made a series of installations, in Copenhagen or New York, introducing burnt-out cars or overturned buses in museums and public places. Today, my approach is less spectacular, more introspective. A question of age no doubt! Reworking this front page was therefore a way for me to reinterview urban violence, unfortunately still current, by giving a new material to an already realized object. I appreciate the graphic design, the logo and the layout of Libération. It's one of the newspapers, along with the Guardian and the New York Times, to which I am particularly attached. As an artist, I don't take a stand for a specific cause. But globalization, climate change, technological progress are social phenomena that feed my works. My commitment is this work of interpretation of reality that I lead, it is the defense of spaces of freedom. »