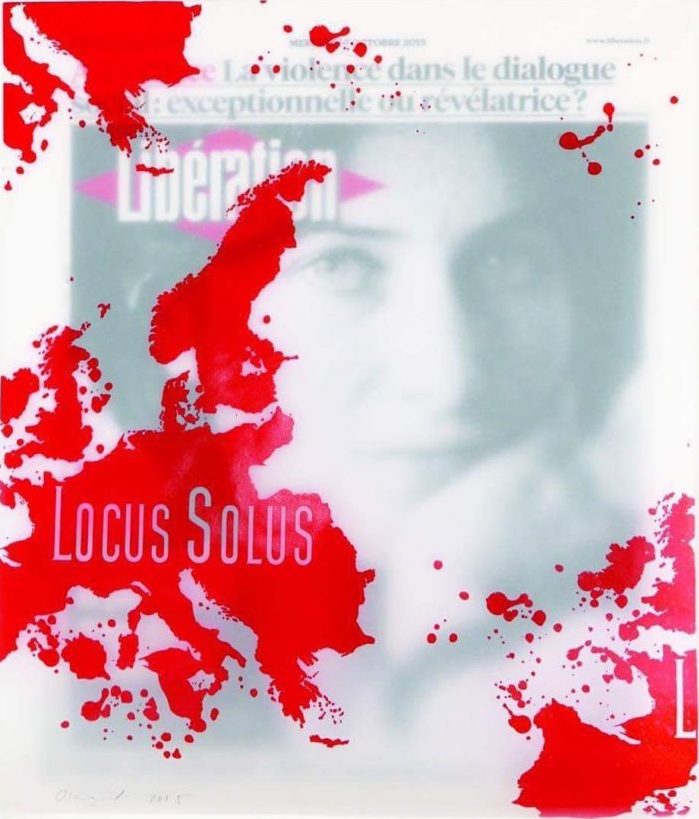 Lithography and tracing on 210g print paper
H.74 x W.61 cm
H.89,5 x W.76 cm (with frame)
Single Edition
1964 Birth in Saint-Etienne.
1992 Jean-Michel Othoniel presents works in sulfur at the Documenta in Cassel. The following year, he starts working with glass, in collaboration with craftsmen from Murano.
1996 He is a resident at the Villa Medici in Rome.
2000 Inauguration of the famous Kiosque des noctambules (Night owl booth), which transforms the Parisian metro station Palais-Royal - Musée du Louvre.
2003 Exhibition Crystal Palace shows his work at the Fondation Cartier in Paris and at the MOCA in Miami.
2011 The Centre Pompidou is dedicating a retrospective to him. My Way, he then travels to Seoul, Tokyo, Macau and New York.
2015 The installation Les Belles Danses (The Beautiful Dances) is presented in the gardens of the Palace of Versailles. Jean-Michel Othoniel lives and works in Paris.
Libération 2016
Solitaire
By Jean-Michel Othoniel (1964, France)
"Very few of the Liberation songs represent a woman, a homosexual person or an artist. This cover premiere is therefore exceptional in its subject matter alone. The media and politicians pay little attention to the words of the artists, whose cross-cutting viewpoint deserves to be considered. They are sensitive plates, revealing. Listen to them! Some have an oracular aspect, like Chantal Akerman. She was a great intellectual of the 21st century, in the tradition of Marguerite Duras. She was a warrior. When she died, I was marked by the fact that most of the obituaries devoted to her were silent about her homosexuality. Nor did they analyze her suicide, or even mention it, as if the filmmaker had died quietly at 65. I tried to understand her gesture. In several interviews, she evoked the feeling of loss of freedom of expression. She also explained how the deportation scene that Europe had once again become blocked her in her creation and in her willingness to testify. How to live as an artist in a collapsing world? Suicide should not be ignored: this is a final question. Chantal Akerman, in this photograph, seems to challenge us. Without the screams, it is difficult to express violence, but here it is expressed through beauty, gentleness and the effrontery of the gaze. She evokes in me a novel by Raymond Roussel published in 1914, on which I am currently working, "Locus Solus". The author, who committed suicide in 1933, leaving a great mystery behind him, describes in it a beautiful woman, because marked with a red stain, in the shape of Europe. It is this map of the continent that is bleeding again, this solitary place that Chantal Akerman spoke of in her own way, that I wanted to show. The layer used here offers a transparency that questions disappearance and memory, but also the relationship of art to the media: how to create an image of the intimate, from a press document? The layer also makes it possible to reintroduce the third dimension. I am a sculptor, and I wanted this front page to become an object and a work of art in its own right. Beyond the proposed exercise, everyone should be able to reappropriate this front page, and perhaps find its beauty. I am not in the commentary. For fifteen years, I have been working on the reenchantment of the world: I try to give moments of beauty and wonder, to allow another look at things. This is my responsibility to our society. This revisited front page is a tribute to a committed filmmaker and intellectual, it is also a cry of alarm about the place of artists. We, who in great solitude, think the world. »