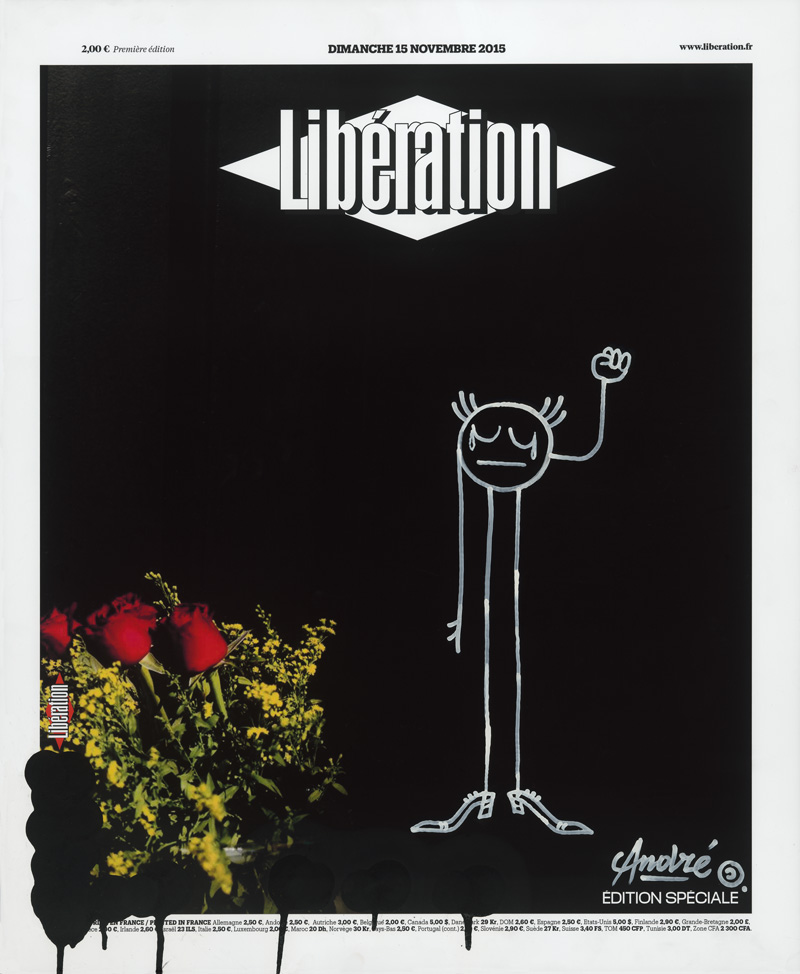 Marker and spray on printing paper 210g
H.73 x W.60,5 cm
H.89,5 x W.76 cm (with frame)
1971 Birth of André Saraiva in Uppsala, Sweden. His parents, Portuguese revolutionaries, returned to Scandinavia after fleeing from theEstado Novo and the fascist regime of Salazar.
1981 With his mother and little brother, he moves to Paris. At the age of 13, he sprays his first graffiti on the walls of the capital: his first name, with a pink bomb.
1994 The signature "André" gives way to "Monsieur A", a sort of Shadock on stilts, goofy, topped and laughing. Mr. A will become his favorite character as much as the logo of an eponymous brand cleverly exploited (T-Shirts, cushions, bottle of Orangina or Mitsubishi phones ...).
2002 Opening of its sales space at the Palais de Tokyo (Paris).
2004 He opened the Baron in Paris, a trendy club for jet-setters, whose success he would decline in New York, London and Tokyo.
2012 "Love Letters", first solo exhibition in New York.
2013 Project "Dream concerts". He creates the posters of his ideal concerts, imagining dream programs (Gainsbourg, Boris Vian, Brel and Barbara, or Daft Punk, Air, Justice, Phoenix and Kavinsky). He puts them up in several major cities (Paris, New York, Venice, etc.) and then sells them in local concept stores.
Libération 2016
Mon amie la rose, 2015
"I was abroad when the attacks hit Paris, the city where I grew up. Yet I lived through the events with relative distance. On the evening of the 13th, family and friends told me live what was happening in their neighborhood, what they understood, the shots they heard. While my American friends in Paris wanted to leave the city, I, on the other hand, wanted to go back, and I rushed back. It's in those moments that you have to be there, to support each other. The feeling of belonging to a collective is reborn to suddenly reflect on the city. In Paris under attack, the arrogance and individualism of Parisians disappear for a while, fade away, to make way for something else. For my part, this need to express my support has passed rather instinctively through drawing. A form of reflex. I react daily to what surrounds me by taking my pencil and scribbling on what I have at hand. I drew this little man, drawn in white, with his fist up in the air, the day after the 13th. It's him that I take up on this one from Libé post-attack, which I found very pretty, both sober and emotionally powerful. This little guy stands up and he resists. A way of saying that the peace we want is not a passive peace. It must be provoked. Unfortunately, we get used to this terror. Contrary to September 11th, this time, the impression of déjà vu lessens the surprise : we know. We know this atmosphere of feverishness, we know this emotion, and what these events produce on us and on who we are. Here in New York, where I live today, I felt a great compassion, a complicity with what happened. New Yorkers necessarily feel concerned. In fact, a little unlike the French, who were quite reluctant, at the time of September 11, to express their solidarity with them, going so far as to doubt the veracity of the attack, the Americans were immediately wholeheartedly with Paris. Their reaction was immediate and sincere".