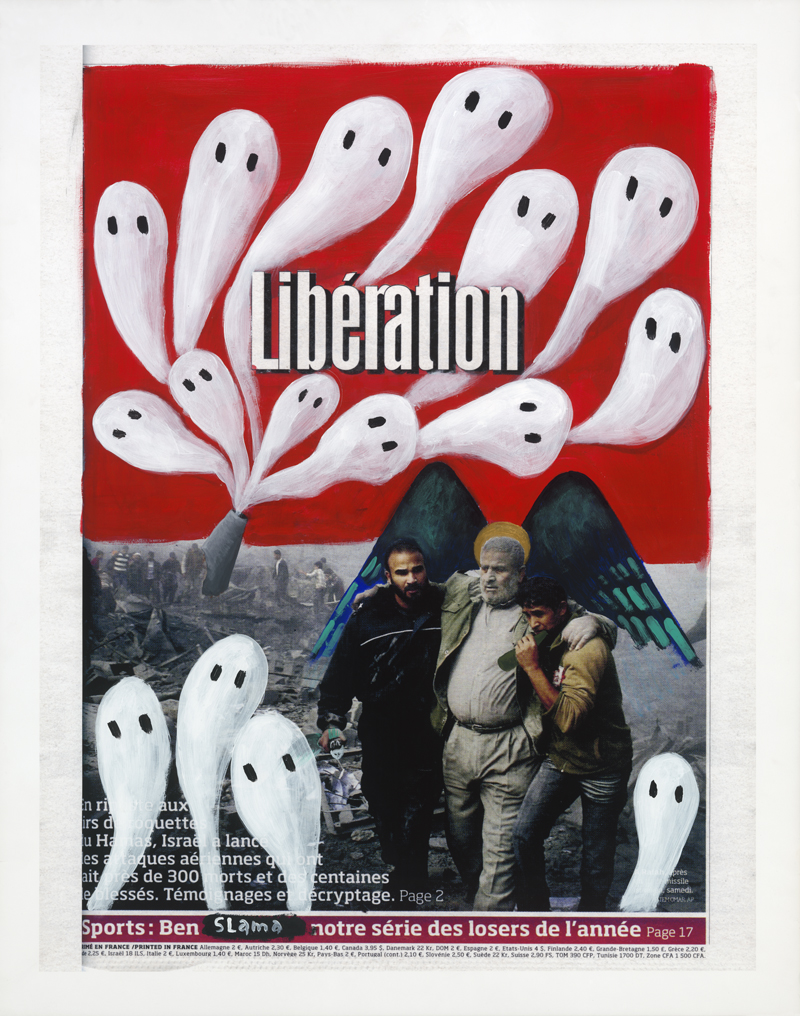 Acrylic on paper print 210g
H.74 x W.68,5 cm
H.89,5 x W.76 cm (with frame)
1974 Birth in Tunis. Self-taught, Mohamed Ben Slama is a painter since the age of 17.
2002-2003 He benefits from a scholarship to the Cité Internationale des Arts in Paris and a residency in Lebanon.
Since 2005 He regularly exhibits his works at the Tunisian Kanvas Art Gallery.
2012 It is at the heart of a violent polemic in Tunisia. An exhibition of contemporary art, in which he participates, gives rise to violence from small Salafist groups. He now lives and works in Paris.
Libération 2016
Gueule de bois (Hangover)
By Mohamed Ben Slama (1974, Tunisia)
"This headline about Gaza challenged me because I saw it as a playground for manipulation. I transformed this apocalyptic war scene into the aftermath of a nice party. Two people bring home a drunken and wobbly God. It's the end of a carnival, accompanied by a monumental hangover. What exactly happened during the night? There is an atmosphere of science fiction that leaves the mystery intact. It is at the same time tender and mocking, realistic and childish, as often in my works. I love cartoons because they always end well and create a universe where death is never final. They are for me an absurd but effective escape route. I am a pacifist allergic to fanaticism, but without any illusion about human nature. What we are experiencing today, the recent attacks in Tunis and Paris, are upsetting me. The war between Israelis and Palestinians, in the birthplace of the three monotheistic religions, never seems to end. I wanted to say "Enough"! In this conflict of power and money, religion has its part too. I have painted a fallen God, because he does not exist in my eyes. Believers seem more dangerous to me than atheists. But I prefer to try to laugh about it: humor helps to demystify war. Current events, but also mythology and my own life irrigate my work. I document myself a lot before I produce a work, even if it is true that I forget a lot too! I still have fragments, which cross my creations. Faced with the impossibility of escaping from reality, I choose to divert it and reinterpret it in my own way, in my paintings. The commitment of an artist is measured by his integrity; if he does his work well, he participates in the defense of freedom. Three years ago, I made the choice to leave for France to keep this freedom there, because artists are still threatened in Tunisia. The revolution has generated energy and creativity, but today, self-censorship is developing".